Yadkin Valley Outdoors Map
Come to Surry County for outdoor adventure in the heart of North Carolina wine country. Our Yadkin Valley playground offers:
500 miles of cycling routes in the rolling countryside designated as the Surry Scenic Bikeway
100 miles of paddling waters on four rivers (with county-maintained access points in partnership with NC Wildlife Commission)
36 miles of trout waters stocked by the NC Wildlife Commission
Dozens of miles of miles of hiking trails and greenways
19 wineries, 4 breweries & 1 distillery in the heart of Yadkin Valley wine country
The interactive map provides details on cycling, paddling, fishing, hiking and lodging. Click the filters on the right to add or subtract layers, and click icons on the map to learn about specific places ...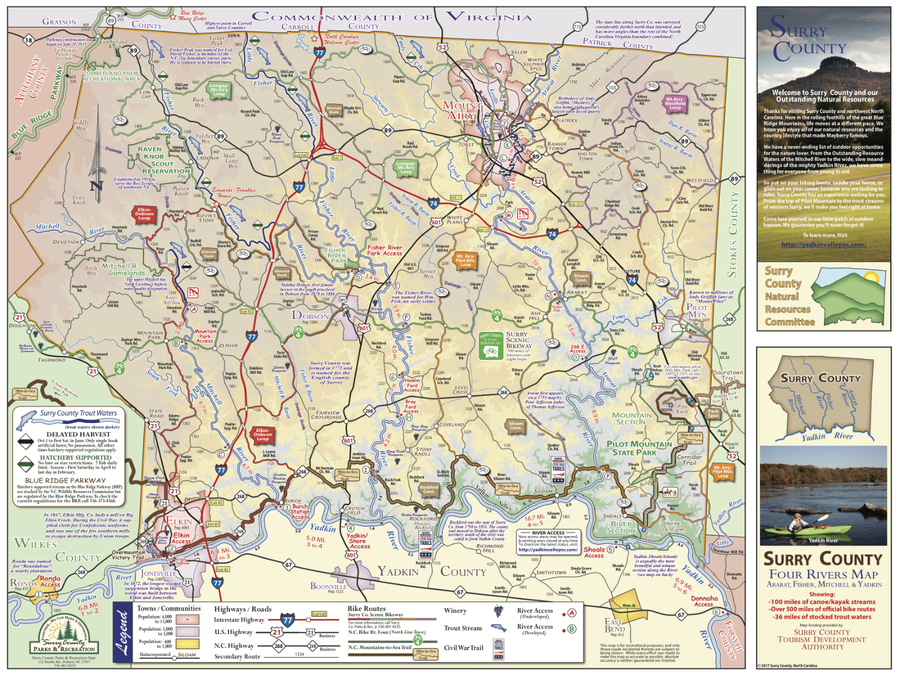 Outdoor Recreation Map
Request a full-size Yadkin Valley, NC, outdoor recreation map (shown on left) that highlights 100 miles of paddling waters, 500 miles of cycling routes, 36 miles of stocked trout waters and great options for hiking ...
---

Blue Ridge Parkway
Check the Blue Ridge Parkway for road closures, and other status updates.