Dobson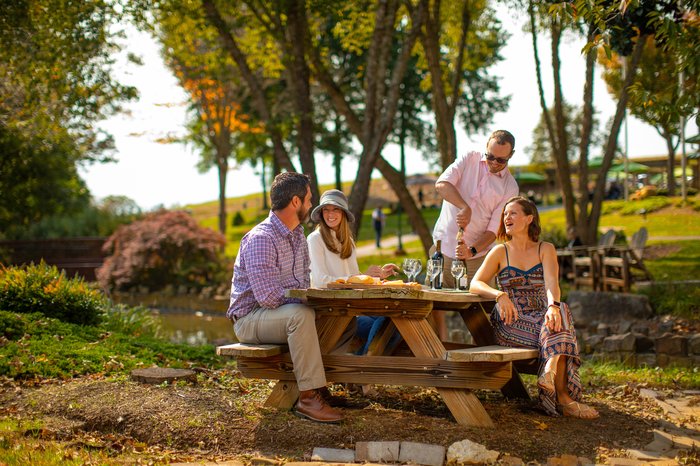 Dobson Town Hall
Mon-Fri: 8:30am-5pm
Dobson is the birthplace of the Yadkin Valley American Viticultural Area, North Carolina's first federally recognized wine-growing region. Brothers and Surry County natives Charlie and Ed Shelton led the way to establish the AVA in 2003, which now includes nearly 50 wineries with 19 along the Surry County Wine Trail.
The Sheltons' pioneering legacy lives on at their namesake winery, Shelton Vineyards, located in Dobson. Shelton is the largest family-owned estate winery in North Carolina. In addition to the winery, the property is home to Harvest Grill, a farm-to-table restaurant, and the nearby Hampton Inn & Suites Shelton Vineyards, the only Hampton Inn in the nation with a wine bar.
Dobson has several wineries. Haze Gray Vineyards and Hidden Vineyard are boutique wineries that offer rental cabins on-site. Stony Knoll Vineyards is an N.C. Century Farm that carries on its agricultural legacy through grape growing and winemaking. These three wineries are in close proximity to one another, lined up along a four-mile stretch of Stony Knoll Road.
Dobson's Surry Community College offers one of the nation's top viticulture and enology schools. The school includes a five-acre teaching vineyard and state-of-the-art bonded winery known as Surry Cellars.
Outdoor Activities
The Fisher River makes Dobson a destination for paddling. Hop in a canoe or kayak and spend a relaxing afternoon drifting downstream. Fisher River Park has a dedicated kayak launch. The park is also popular for trout fishing. A 1.5-mile walking or jogging trail runs along the river, and mountain bikers enjoy a wooded 6.3-mile mountain-biking trail.
Mitchell River is stocked with brook, rainbow and brown trout for delayed-harvest trout fishing; an access point is located near Kapps Mill along River Road. In downtown, Dobson Square Park charms visitors with a popular splash pad, as well as a playground, picnic shelters and a seasonal farmers market.
Town & Country
As the Surry County seat, Dobson balances its governmental responsibilities with a fun, down-home atmosphere and scenic surroundings ripe for exploring.
In April 2022, the national Hungry for History program recognized Surry County's signature dessert, the cobbler-like sonker, with a roadside marker in downtown Dobson. Try it for yourself along the Surry Sonker Trail, which includes eight restaurants that serve the dessert daily.
South of town, the historic Village of Rockford reflects what life was like in Surry County in the early 1800s. Historic properties include a Methodist church, tavern, post office, store and Masonic lodge. Rockford General Store has been part of the village since the late 1800s, and it remains in operation. Visitors enjoy old-fashioned candy, glass-bottled drinks, burgers and hot dogs from the grill. The general store is also on the Surry Sonker Trail.