Elkin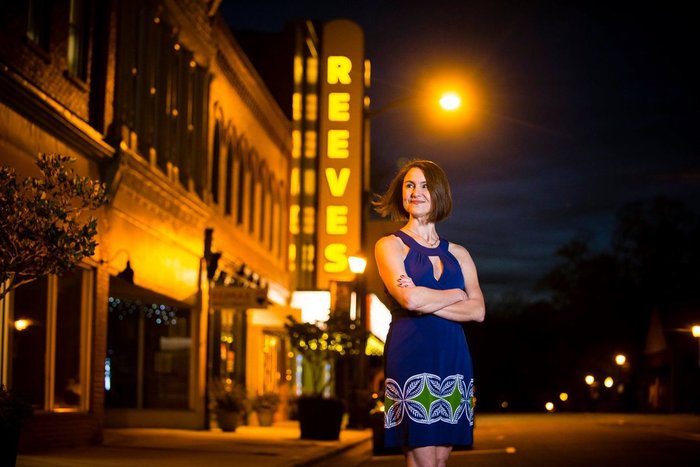 Yadkin Valley Heritage & Trails Center
Mon-Fri: 9am-5pm; Sat: 10am-2pm (Open Saturdays May-Oct.)
Operated by the Yadkin Valley Chamber of Commerce
Tucked in the Blue Ridge foothills beside the Yadkin River, Elkin is known as the "best little trails town in North Carolina." It has evolved from a textile manufacturing hub to a haven for hiking, paddling and biking, as well as winery hopping through the vineyards of the Yadkin Valley.
The renovated Reeves Theater anchors Main Street with its bright Art Deco facade. A farm-to-table cafe operates in the lobby, and the state-of-the-art listening room welcomes acts of all genres, with a focus on regional sounds. Twice monthly, "The Martha Basset Show" takes place at the Reeves. The folksy, musical variety show draws inspiration from "A Prairie Home Companion" and includes three guest acts per show, incorporating local, regional and national artists.
Elsewhere along Elkin's Main Street, several murals adorn buildings, telling stories of the town's history and the surrounding foothills of the Blue Ridge Mountains. A variety of shops and boutiques dot the street, including the popular Wisdom Table, which specializes in local and regional wine, plus North Carolina craft beer.
Dining options in Elkin include Southern cuisine in a laid-back setting, rib-sticking pub fare with locally crafted beer and down-home comfort food. In-the-know diners save room for blueberry, strawberry or sweet potato sonker, Surry County's signature dessert that has its own trail.
The small-town setting creates an ideal backdrop for events throughout the year, such as classic car cruise-ins, the annual Yadkin Valley Pumpkin Festival in September and the Reevestock music festival held at Hidden Amphitheater every summer.
Elkin's Foothills Arts Center works with artists of all genres to support their work and bring cultural experiences — art exhibitions, plays, concerts and festivals — to the community. The Foothills Arts Center is part of Surry County's Blue Ridge Craft Trail.
Wine Country
Its central location in Yadkin Valley wine country makes Elkin an ideal base to explore vineyards and sample some of the finest vintages in the Southeast. More than 20 wineries are located within 20 miles of downtown Elkin.
The Surry County Wine Trail links 19 wineries (click here for a map). Many specialize in wines made from European vinifera varietals. Each May, the Yadkin Valley Wine Festival celebrates local wine with tastings from area vineyards, live music, food trucks and the Tour de Vino bike ride.
Slightly Askew Winery operates an in-town tasting room with a vacation rental next door. Boutique-style Adagio Vineyards is also close to town, yet has space for a wraparound porch and fire pit on the property. Around the corner, Elkin Creek was one of the first wineries in the area, established in 2001. Located along its namesake creek, the winery occupies a historic mill building. It is known for bold, red vintages that pair well with gourmet pizzas served on Sundays.
The nearby rural community of State Road is home to Grassy Creek and Golden Road vineyards. Farther out into the countryside is Carolina Heritage, North Carolina's first certified organic vineyard.
Beer lovers shouldn't fret. Skull Camp Social House specializes in creative craft beers. The brewery's lineup of co-fermented brews ties craft beer into the winery scene; combinations have included Belgian blonde with sangiovese and porter with cabernet sauvignon. Downtown, enjoy a pint at Angry Troll Brewing, located just off of Main Street.
See All Elkin Wineries & Breweries
Best Trail Town Around
Thanks in large part to the Elkin Valley Trails Association, many miles of trails and greenways encourage hiking, cycling and paddling. Downtown Elkin sits at the convergence of three major trails: the Overmountain Victory National Historic Trail, the Yadkin River State Blueway Trail, and the NC Mountains-to-Sea Trail, which runs right down Main Street.
Hikers are rewarded with beautiful landmarks along the trails, such as Carter Falls located on a one-mile hiking trail off of Pleasant Ridge Road, as well as the spillway dam on the Elkin & Alleghany Rail Trail. The Yadkin River flows through town, providing myriad opportunities for tubing, kayaking, canoeing and fishing.
Stop by the Yadkin Valley Heritage and Trails Visitor Center for maps, brochures and trail information, as well as amenities such as showers for hikers and charging stations for electric vehicles.