Pilot Mountain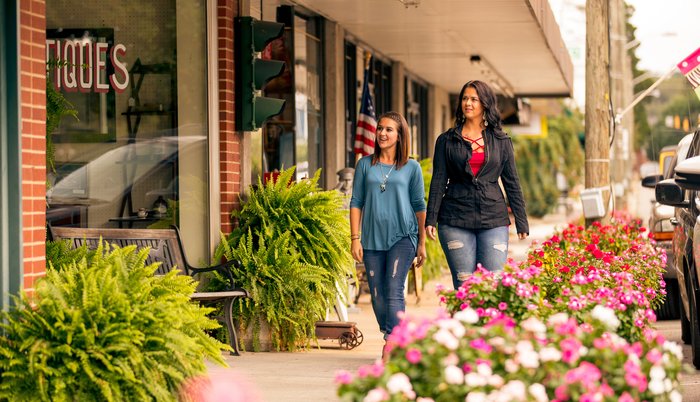 Pilot Mountain Visitors Center
Mon-Fri: 9am-5pm and Special Events
The Town of Pilot Mountain derives its name from the quartzite knob which has been a landmark for centuries. Native Americans and early settlers relied upon Pilot Mountain to determine their location, while today's travelers welcome it as a beacon of rest and relaxation. The knob, rising more than 2,000 feet in elevation, is the centerpiece of Pilot Mountain State Park, with more than 3,000 conserved acres.
The state park, a hub for outdoor adventure, is divided into two sections. The main portion includes the mountain peak, hiking trails, horseback-riding trails and campsites. The park's rocky cliffs create challenging terrain for rock climbing and rappelling. A viewing platform in the upper parking area provides wonderful panoramic views to people of all abilities.
The Yadkin River section, 20 minutes south of the main park, offers hiking trails, paddle-in campsites, a picnic area and a canoe/kayak launch. This area of the park has a more rugged, undiscovered quality that outdoor adventurers particularly enjoy.
Adjacent to the park is Horne Creek Farm. The living historical site demonstrates what rural life was like in the early 20th century and holds events and tours year-round. Just east of Pilot Mountain, Carolina Ziplines takes visitors on a cruise through the treetops.
Downtown
Andy Griffith referenced Pilot Mountain in his namesake TV show when he headed to the "big city" of Mount Pilot. The real Pilot Mountain is a smaller town with antiques shops, restaurants and bakeries along Main Street.
Sip a cup of joe at the local coffeehouse, enjoy a sandwich with friendly service or search for treasures at the country store. Dig into a dish of sonker, Surry County's signature dessert, at The Tilted Ladder, one of eight stops along the Surry Sonker Trail.
Main Street brings noteworthy events throughout the year, including the beloved Hot Nights, Hot Cars cruise-ins that take place in summer, pairing classic cars with beach music bands. Twice a year, once in the spring and again in the fall, Pilot View Vintage Market fills the town with more than 100 vendors selling antiques and vintage merchandise — it's a pickers' paradise!
Wine Country
JOLO Winery & Vineyards, Pilot Mountain's upscale winery, pours award-winning reds, whites and rosés made from European varietals inside an elegant tasting room. The on-site restaurant, End Posts, serves a tapas-style menu that pairs well with each glass. From the patio, guests enjoy a frame-worthy view of Pilot Mountain's peak.
For another peak perspective, visit Pilot Mountain Vineyards, which offers an equally stunning view of its namesake knob from the opposite side. With 31 acres of vines and a window-walled tasting room, the winery is a wonderful place to while away an afternoon sipping dry, European-style wines and listening to live music.
Pilot Mountain Attractions