Mount Airy
History
Music
Second longest-running live radio broadcast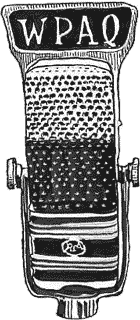 A scan of your radio dial while you are driving through western North Carolina will probably take you to a radio station that has been broadcasting old-time and bluegrass music from Surry County since the late 1940s. Started by Ralph Epperson, radio station WPAQ 740 AM has produced—Merry-Go-Round—a weekly live broadcast of local, regional and national performers since February 2, 1948, making it the second longest-running live radio show in the United States. The Grand Ole Opry is the longest-running live radio broadcast in the nation.
Musicians who grew up in Surry County acknowledge that they learned many of their very first old-time songs from WPAQ's weekly broadcast. The show has hosted regional and national music legends, such as Tommy Jarrell, Benton Flippen, the Carter family, Mac Wiseman, Lester Flatt and Earl Scruggs, and Bill and Charlie Monroe.
In 1997, WPAQ's Merry-Go-Round moved to the Earle Theatre in downtown Mount Airy where the live broadcast cold accommodate a live audience in the historic theatre. You can catch live bluegrass, old-time and gospel music as it is being aired on WPAQ every Saturday, 11 a.m. until 1:30 p.m. Plan to arrive early at 9 a.m. for jam sessions held in the theatre. Admission is $5 or free with a Surry Arts Council season pass or a $20 Merry-Go-Round annual pass.