Dobson
Elkin
Mount Airy
Pilot Mountain
Outdoors
Wake up to Vineyard Views at Numerous Yadkin Valley Wineries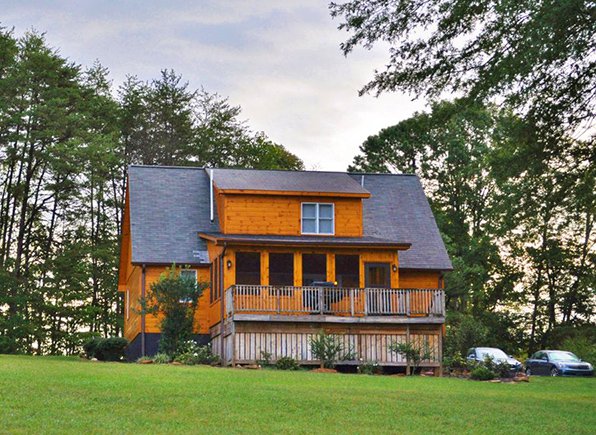 One of the perks of visiting Yadkin Valley wine country is staying in the vineyards. Several wineries along the Surry County Wine Trail offer lodging on property. Whether you're looking for a romantic hideaway for two or larger options for a group, there's a spot for you.
Visitors who enjoy history will delight in a stay at the Wine Lodge at Dobson's Stony Knoll Vineyards. The 1860s cabin has been extensively renovated to include a master suite with whirlpool tub, full kitchen and a front porch with rocking chairs overlooking the vineyard.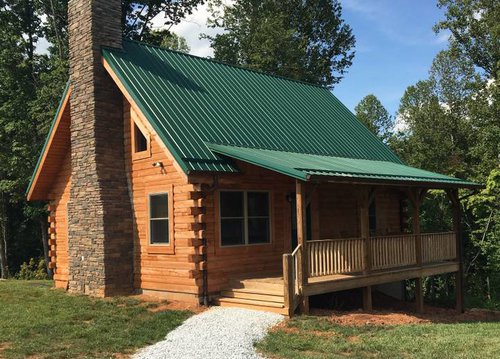 Just a quarter-mile from Stony Knoll is a cozy option at Haze Gray Vineyards. The winery, which opens its tasting room in fall 2019, already immerses guests in the Yadkin Valley experience with a rental cabin tucked among the vines. Start the morning with a cup of coffee on the front porch as the fog lifts over the vineyard.
For a woodland escape, book a stay at the Cabin at Herrera Vineyards. Bring the pups to this dog-friendly property, where you can wet a hook in the pond out back or relax in the hot tub. Herrera Vineyards is on a beautifully landscaped estate and its tasting room, which is an easy walk from the cabin, features an upscale restaurant, Herrera Vines.
Two well-appointed rental houses at Round Peak Vineyards in Mount Airy welcome dogs and their owners. With room for eight people each, complimentary tastings for guests, and screened-in porches with views of the Blue Ridge Mountains, these houses are popular for group getaways. Round Peak also serves up its line of Skull Camp craft beer in addition to award-winning wines.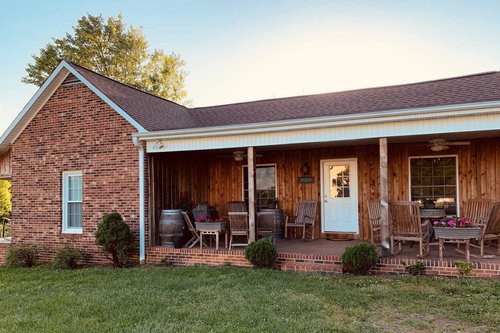 Carolina Heritage, North Carolina's first certified organic vineyard and winery, completed restoration on The Olde Farmhouse in 2018. After a tasting with the owners, retreat next door and relax in the peace and quiet of the Elkin countryside in this comfortable two-bedroom house that sleeps up to four.
On the banks of its namesake waterway, Elkin Creek Vineyard has four modern, luxury cabins complete with full kitchens, stone fireplaces, soaking tubs and swings on the back porch. Follow the creek up to the winery and tasting room, and make plans to be there on Sunday, the only day each week the winery serves its famous brick-oven pizzas for lunch.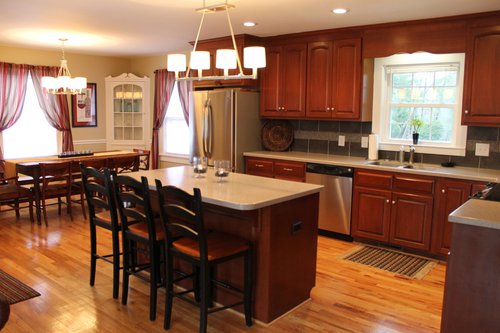 Also in Elkin, but located in town, is the Slightly Askew House at Slightly Askew Winery. The four-bedroom luxury vacation home sleeps up to eight on a secluded lot just a few steps from the tasting room. The 2,200-square-foot home features an open floor plan allowing guests to congregate in the kitchen, living and dining area. Grill out on the deck while watching wildlife scamper through the backyard.
"Our rental house is good for large families, girls' getaway weekends, several couples traveling together. It has a large social area and deck with a gas grill and hot tub," says Karen Defreitas, co-owner of Slighty Askew Winery.
Within five miles of the Slightly Askew House are four additional wineries.
One of those wineries is Grassy Creek. Located in the community of State Road just outside Elkin, Grassy Creek has a historic lodging option known as the Klondike Cabins.
Klondike Cabins take guests back to the 1920s when the Hanes and Chatham families (both leaders in the North Carolina textile industry) retreated to this Surry County estate to hunt, fish and socialize. Multiple cabins dot the 42 acres — which include a pond, horse shoe pits and walking trails — creating an ideal setting for large gatherings. Plus, it's just a short walk to Grassy Creek's tasting room.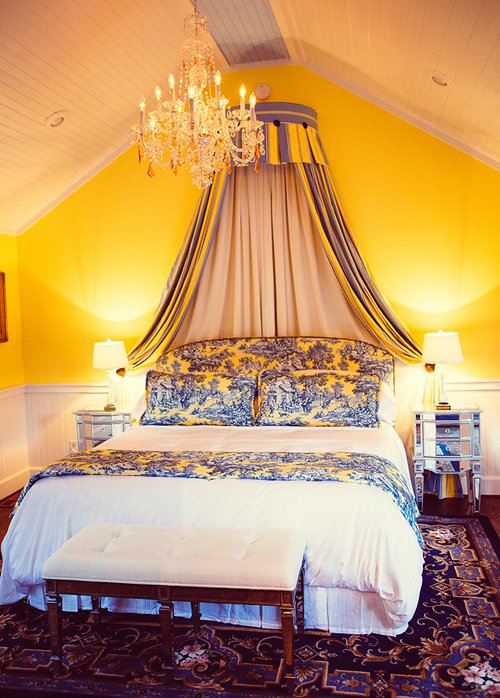 In Pilot Mountain, the Newlywed Chateau at JOLO Winery and Vineyards is an elegant retreat for two. Whether you just said your vows or are celebrating decades together, a stay here makes a fine finish to a wine tasting and romantic meal at JOLO. The small chateau is well-appointed in every regard, including a crystal chandelier in the bedroom.
Shelton Vineyards in Dobson offers wine lovers a cozy option with 78 guest rooms and suites. The Hampton Inn & Suites Shelton Vineyards is one of the nicest and highest-rated properties in the Hampton portfolio, and is the only one with a wine bar in the lobby.
The hotel is conveniently located off Interstate 77, just two and a half miles from the Shelton Vineyards. Guests have the option of driving to the winery, taking the hotel shuttle or borrowing bicycles from the hotel's fleet to peddle to the vineyards.
Staying in the vineyards adds a special touch to any visit to North Carolina wine country. Don't wait, book your stay now while it is top of mind.
"The Yadkin Valley offers a well-rounded experience. Probably at least 75 percent of people who stay at our vacation house are here primarily for wine tasting, but families also come to hike, kayak and tube, go antiquing," says Defreitas of Slighty Askew Winery. "The area has a small-town feel, but offers so much entertainment. It's the perfect weekend getaway for wine tasting and nature."