Pilot Mountain
Autumn Options: See the Yadkin Valley on Horseback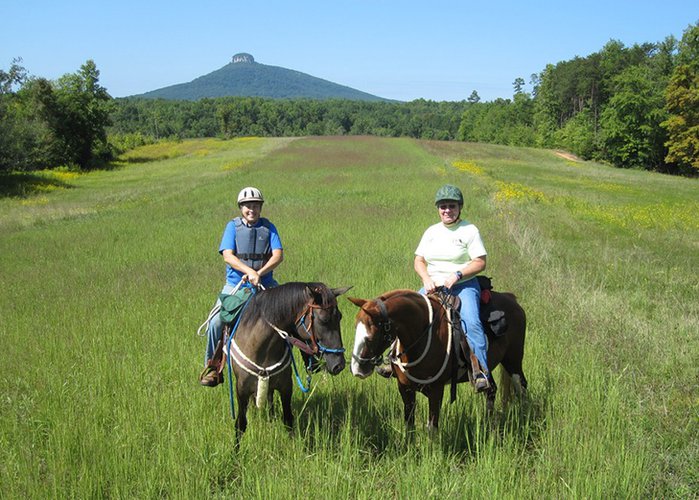 Diversify your leaf-looking experience this fall by taking in the beautiful Yadkin Valley on horseback. Two area stables provide horseback riding along Surry County trails and in Pilot Mountain and Hanging Rock state parks.
Bregman's Trail Riding in Pinnacle leads small group rides along Pilot Mountain State Park's Corridor Trail for views of the forest, streams and the park's distinctive quartzite knob. Joe Bregman started the trail rides about 10 years ago to complement his horse training business.
Trail ride options include an hour-and-a-half ride or a three-hour ride. The 90-minute option is enough time for beginners to get a feel for it, but not too long of a ride to overdo it.
Bregman's herd is a mix of western-style horses including quarter horses, paint and Appaloosa. When visitors arrive at the ranch, Bregman and his staff pair them with the proper size saddles and helmets. After meeting the horses, receiving instructions and riding a few practice rounds in the arena, everyone loads up for the short trip to the state park. For repeat visitors and intermediate riders, Bregman's uses additional trail locations.
"Customers can spend a couple of hours here, go eat lunch, go hike at the state park, and they've had a full day," Bregman says. "We get a lot of people from the Raleigh-Durham area and Charlotte; in only a couple of hours, they can be out riding a horse in the mountains."
Cardinal Stables & Riding Academy in Westfield also offers guided trail rides in addition to its riding lessons and summer camps. At Cardinal, riders may choose a one-, two- or three-hour duration. Riding routes follow secluded paths through woods and meadows. A favorite spot is the covered bridge that traverses a winding stream.
For horse owners who want to ride in the area, the 25-mile Sauratown bridle and hiking trail connects Pilot Mountain and Hanging Rock state parks. The trail is part of the Mountains-to-Sea Trail, which stretches the length of North Carolina.
For more information about horseback riding in the Yadkin Valley, visit our outdoors page.