Mount Airy
Pilot Mountain
Culinary
New Sonker Trail Stops Offer Fun, Creative Takes on Traditional Dessert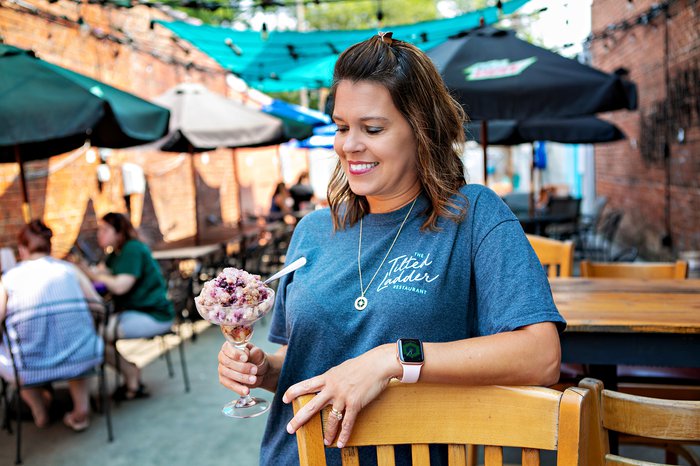 Surry County's signature dessert is known for its personalization. Sonker recipes and presentations depend upon family tradition, seasonality and each cook's creativity. Two new stops on the Surry Sonker Trail reflect the inherent variety found in this traditional dessert.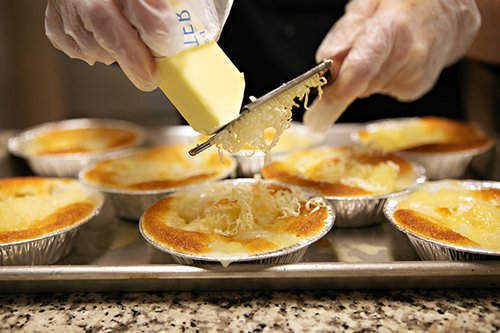 Prudence McCabe Confections in Mount Airy and The Tilted Ladder in Pilot Mountain joined the Sonker Trail this summer, increasing the number of trail stops to eight with at least one in each of Surry County's small towns.
Sue Heckman, owner of Prudence McCabe Confections, drew inspiration from her grandmother for the name of her shop and many of her baked goods, including her sonker's pastry topping. Heckman makes the sonker in individual pie tins. Just before the sonkers are done, she removes them from the oven, grates butter over the top, sprinkles on sugar, and places them under the broiler to create a golden-brown top crust.
"Customers come in and go, 'All right, explain it to me. What is a sonker?'" Heckman says. "We've done peach and pear so far, and they've been really popular."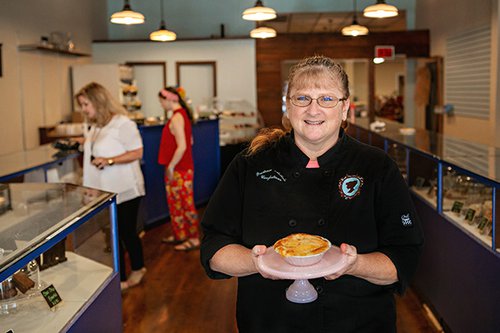 Prudence McCabe is takeout only, so Heckman encourages her customers to take their sonkers home, warm them in the microwave and top them with a scoop of vanilla ice cream. Ideas for future seasonal flavors include apple, sweet potato, pumpkin and mixed berry.
For those unfamiliar with the Surry County staple, sonker is a cobbler-like dessert of cooked fruit and crust. Many have a liquid batter poured on top of the fruit. Others have a rolled dough for the crust, while some are prepared on the stove top with a dropped-dumpling crust.
"The vintage, handmade, old-fashioned feel of the dessert fits in well with our shop and other baked goods," Heckman says.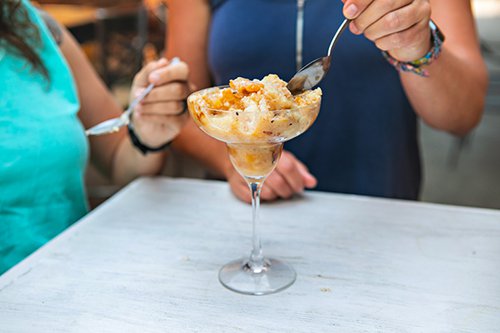 At The Tilted Ladder restaurant in downtown Pilot Mountain, sonker unexpectedly arrives in a stemmed cocktail glass. A thin milk "dip," with flavors reminiscent of snow cream, is served alongside for guests to drizzle to their liking. The fun presentation complements the restaurant's bright colors and vibrant atmosphere with live music Thursday-Saturday.
"We're from here and know most everybody in town who comes in, but we also have a lot of visitors," says Crystal Upchurch, who owns the restaurant with her husband, Jimmy. "So far, the peach sonker has been a favorite."
Sonker is one of several homemade desserts at The Tilted Ladder, which is located in the 1905 building on Main Street that once housed Mitchell's hardware store. The American casual restaurant has a family-friendly feel in the front dining room, TVs and a sports bar atmosphere in the back, and a spacious courtyard with outdoor seating.
Additional stops along the Surry Sonker Trail include: Anchored Bakery and Miss Angel's Heavenly Pies in Mount Airy, Southern On Main and Skull Camp Smokehouse in Elkin, and Rockford General Store and Harvest Grill at Shelton Vineyards in Dobson.
To learn more about the trail and download a free map, click here.