Kids
Dobson
Elkin
Mount Airy
Pilot Mountain
Culinary
Food Trail Celebrates the Mouthwatering Ground Steak Sandwich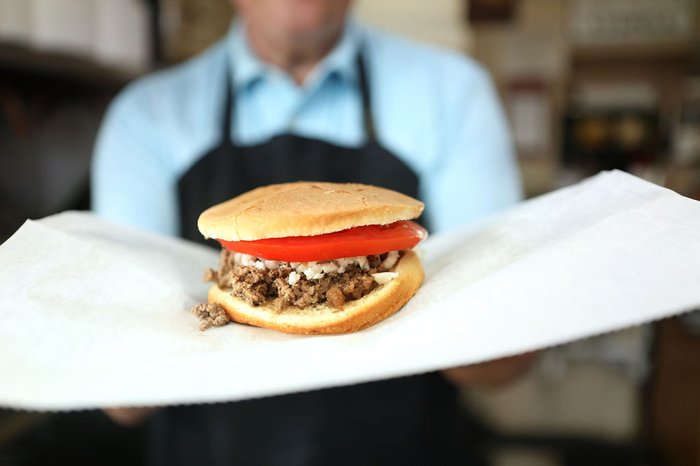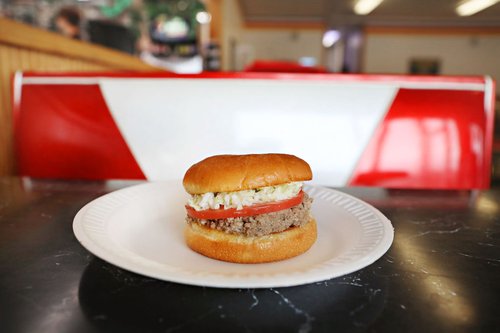 From meager beginnings in the Great Depression, the ground steak sandwich not only survived, it thrived. So popular is this melt-in-your-mouth cousin to the hamburger that nearly a century later it has received its own food trail.
The Surry Ground Steak Trail came to life in May of 2023 to shine the spotlight on 11 mom-and-pop restaurants that serve this uniquely Surry County creation.
The sandwich is believed to have originated in the 1930s at the old Canteen Restaurant in Mount Airy before spreading to diners in nearby Pilot Mountain, Elkin and Dobson.
Cooks with limited resources got more out of ground beef by browning or boiling the meat, adding flour and water (or milk), and seasoning with salt and pepper, sometimes adding a special ingredient. They placed the tender, loose-meat patty on a bun and topped it with mayonnaise, slaw and tomato.
"When the lunch whistle blew at textile factories in Mount Airy, workers would walk to Main Street for sandwiches, and one of those was ground steak," says Travis Frye, coordinator of the Surry County Tourism Development Authority. "It was an affordable sandwich for blue-collar workers. It quickly spread, and people around the county started enjoying ground steak."
Frye came up with the trail idea in 2022, only weeks into his new job as tourism coordinator. One of his first assignments was organizing the dedication ceremony for a Hungry for History roadside marker to honor sonker, a local heritage dessert with its own trail.
"It piqued my interest because I saw there were stories to tell," he says. "There's a history to expand upon and something we have that differentiates us from any other county in North Carolina. We can claim two different dishes – one being sonker and one being ground steak."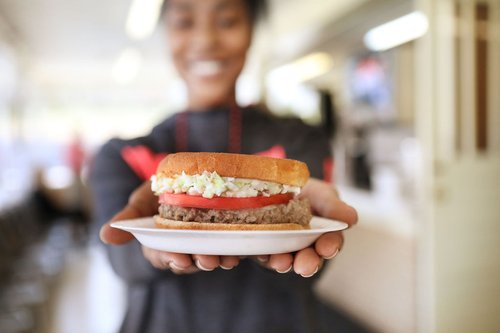 Folks can savor a ground steak sandwich at any – or all – of the 11 trail locations. Mount Airy has five: Aunt Bea's BBQ, Dairy Center, Martha Sue's, Snappy Lunch and Speedy Chef. Three Pilot Mountain eateries are on the trail: All Sauced Up BBQ, Aunt Bea's BBQ and Cousin Gary's. In Dobson, ground steak is on the menu at Central Café and Rockford General Store. Elkin's Speedy Chef rounds out the list.
Freddy Hiatt purchased the Dairy Center in Mount Airy in the 1990s and learned ground steak's history from previous owner, Gene Fleming, who opened the eatery in 1954.
"It's a soft, tender type of meat, and it does kind of melt in your mouth," Hiatt says. "You can eat it without a lot of heavy chewing. Some people use ground chuck. We use the ground beef with higher fat to get a better flavor, a better taste. That's what we've done all the years I've been here, and Gene did the same. I've always said if it works, there's no reason to change it."
The recipe at Cousin Gary's in Pilot Mountain hasn't changed since Gary Collins founded the diner in 1988. Collins was one of 18 children. They grew up on ground steak, and he made sure to get his mom's beloved "secret" recipe when he opened.
The recipe stayed a family secret when Collins' sister, Debbie Butner, bought the eatery and remains so today as ownership has passed to Debbie's daughter, Gina Erickson.
"It's not like a hamburger that is tough, and you have to chew it up," Erickson says. "When you take a bite, you're eating it with the slaw and tomato, and it all just kind of comes together in your mouth. It's really good."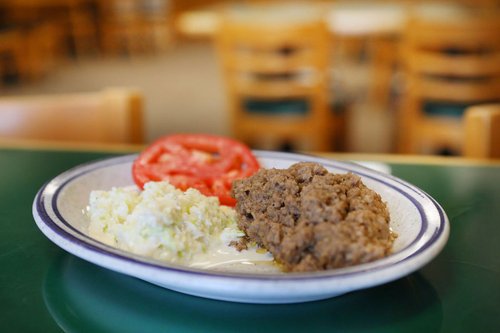 While the basics of making ground steak are similar, recipes vary per restaurant, as does the presentation. Some serve it on a plate (minus the bun) accompanied by sides. Others put ground steak on a biscuit.
"We serve it all day long, and I have a large customer base for breakfast who eat it with eggs, either as an egg-and-ground-steak sandwich or a ground steak omelet," says Hiatt of the Dairy Center. "We fix it any way people request it."
Ground steak, like sonker, is part of the generational fabric of the area. Locals love it, and the creator of the Surry Ground Steak Trail believes visitors will, too.
"It's an institution – there's history, there are memories, there's an identity," says Frye, who remembers his great-grandmother making ground steak in a cast-iron skillet.
"The roots are the selling point," he adds. "Let us tell you a little about our history while giving you a current experience."
For more tasty details on the trail and to request a trail map brochure, visit: GroundSteakTrail.org.