Dobson
Dobson's Splash Pad is the Hot Spot to Cool Off this Summer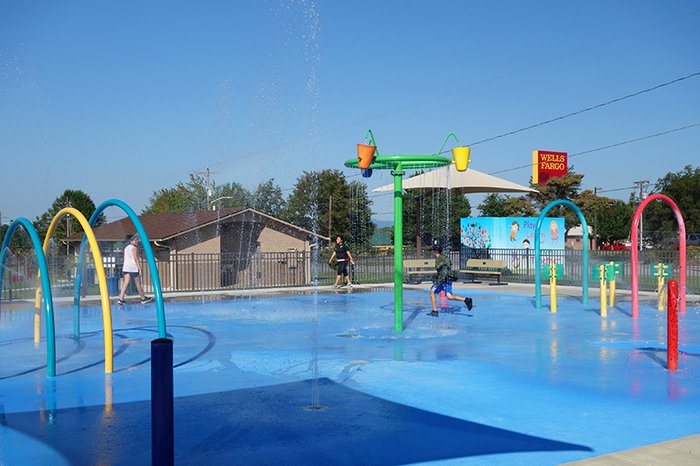 When temperatures soar and the humidity rises, the splash pad at Dobson Square Park becomes the most popular spot in town. Kids of all ages run through the water as spouts shoot up from the ground, arches create a tunnel of mist, and overhead pails fill up and dump out a bucket of water on those below. Laughter and squeals echo down the sidewalk.
Completed in 2015, the splash pad was created as a resource for Dobson residents, as well as a draw for visitors to Surry County.
"It has been an overwhelming success," says Misty Marion, town clerk. "People come from throughout the county and even out of state. We've had people from neighboring counties, from Virginia and other areas."
The splash pad provides a safe environment for small kids, as well as adolescents and teens to play together. Benches with umbrellas offer shaded seating for parents and caretakers.
The water for the splash pad is recycled via an underground tank and filtration system. And the town takes pride in keeping the pad's features in top-notch condition. A fresh coat of paint was added in mid-June just in time for peak season.
Dobson Square Park also includes a playground, which recently received a new swing set; picnic shelters; an amphitheater; a walking trail; and restrooms.
On the second Saturday of each month from May through September, the park hosts free outdoor movies. Families bring yard chairs and blankets and kick back for a relaxing evening under the stars.
The splash pad is open daily, 8 a.m.-8 p.m., from May till September. Admission is free. To learn more about Dobson Square Park and other town attractions, click here.