Beer
Dobson
Elkin
Mount Airy
Wine
Finding Ale Along the Trail: These Yadkin Valley Wineries Serve Craft Beer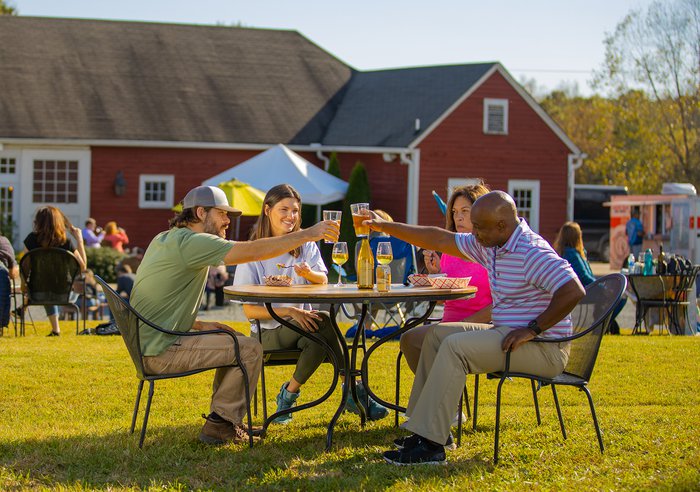 While the Yadkin Valley is known for its variety of award-winning wines, several vineyards along the Surry County Wine Trail also serve craft beer. Some wineries brew their own, while others rely on locally produced ales and lagers.
Beverage diversity can be a good thing when not everybody in your traveling party is a wine aficionado. Check out this list of wineries that serve craft beer in their tasting rooms.
Round Peak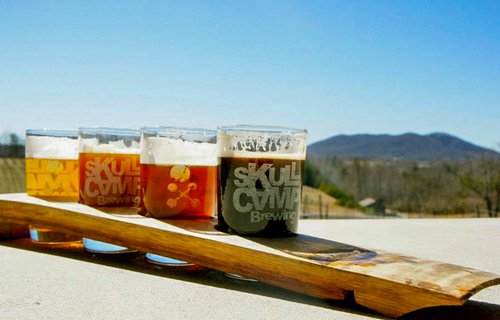 Owner Ken Gulaian and his staff started brewing beer at Mount Airy's Round Peak Vineyards in 2012. The beers are brewed under the name Skull Camp, which like Round Peak draws its name from a nearby mountain.
Skull Camp produces a solid stable of traditional craft beer styles, such as blondes, red ales, IPAs, porters and stouts. Knuckle Dragger double IPA is the most popular. Seasonal selections include an Oktoberfest, hefeweizen, saison and cocoa mint stout.
In an effort to connect wine and beer, Skull Camp co-ferments beers by combining grape must (unfermented grape juice) with beer wort (unfermented grain extract). These unusual combinations, such as Belgian blonde/Sangiovese or porter/Cabernet Sauvignon, depend on the grape harvest, so their availability varies.
Round Peak Vineyards also operates Skull Camp Social House down the road in Elkin, which serves wine and beer as well as drink-friendly small plates.
Serre Vineyards
Serre is another Mount Airy winery that serves beer under its own label, Beast Trail Brewing. Named for the road leading to the winery, the beer is available in 12-ounce cans in the tasting room.
Beast Trail comes in two styles: Festbier, a traditional German lager, and a red ale. Enjoy wine or beer with music and food trucks most weekends at Serre Vineyards.
Haze Gray Vineyards
On Haze Gray's 85-acre farm in Dobson, visitors choose from an award-winning lineup of dry wines, fruit-inspired sweet wines and draft beers from Midsummer Brewing in nearby Westfield. The winery partnered with Midsummer to carry its wines in the brewery's taproom, and in return, the winery offers two Midsummer beers on draft.
Beer styles change with the seasons. Other seasonal specialties at Haze Gray include warm mulled wine in cooler weather and wine slushies in the summer.
Golden Road Vineyards
Beer is available on draft or in cans inside the inviting tasting room with exposed-wood accents at Golden Road just outside Elkin. Beer offerings from Skull Camp complement the estate-grown wines, such as Petit Manseng, Petit Verdot, Traminette, Merlot and Tannat.
The spacious outdoor area includes multiple fire pits and views of the surrounding Blue Ridge Mountains.
Hidden Vineyard
Gather in the cabin-style tasting room among the vines at Hidden Vineyard and drink a glass of Old World-style wine, produced from the nine-acre vineyard. Or enjoy a locally brewed Skull Camp beer. Hidden Vineyard often hosts food trucks and live music on the weekends, so bring a group to enjoy wine and beer on the front porch and out on the lawn.
Grassy Creek Vineyard & Winery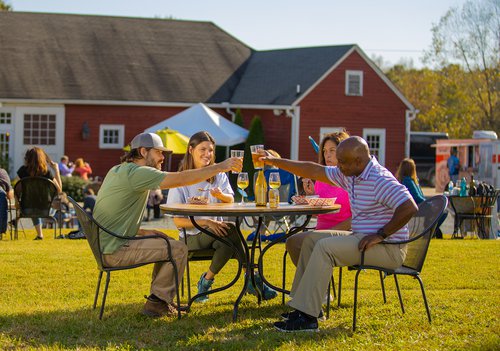 Grassy Creek in Elkin sells canned Skull Camp beer inside its iconic Red Barn tasting room. The winery also offers two beers on draft, one from Skull Camp and one from Angry Troll Brewing, also in Elkin.
"We love working with other local businesses," says Cynthia Douthit, co-owner of Grassy Creek Vineyard.
Visitors can enjoy their drinks on the lawn outside the Red Barn tasting room, as well as along the walking trails through the forests on property.
Elkin Creek Vineyard
You'll find a rotating selection of beer at Elkin Creek Vineyard along with European-inspired wines. The beer lineup includes familiar domestics, such as Miller Lite and Blue Moon, as well as craft selections, such as Dale's Pale Ale from Oskar Blues Brewery.
Choose a beer or a glass of wine to pair with the popular made-to-order brick-oven pizzas on Sundays.
Shelton Vineyards
As the largest family-owned estate winery in North Carolina, Shelton Vineyards is committed to making excellent wines. But the tasting room and restaurant on property also serve beer.
The spacious tasting room serves domestic and craft beer. At Harvest Grill restaurant, just steps from the winery, craft beer and Shelton wines are available to accompany the farm-to-table menu. In keeping with the restaurant's source-local mantra, beers often come from the surrounding NC Piedmont.
Old North State Winery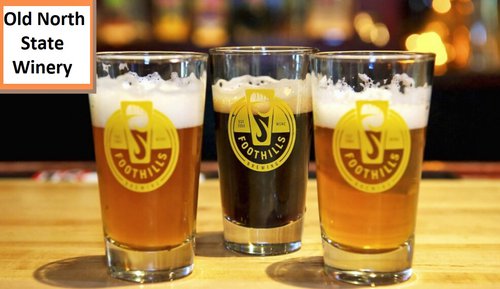 Old North State Winery in downtown Mount Airy keeps a variety of craft beer on tap, as well as a full bar and specialty cocktails. Over the years this winery and restaurant has gained a following for its creative, locally sourced food menu and multicourse dinners.
The restaurant places an emphasis on beers from North Carolina, particularly the nearby Triad region, and sometimes features a tap takeover where you can try a variety of styles from a single brewery.
McRitchie Winery & Ciderworks
Although McRitchie doesn't serve beer, the winery is a pioneer of North Carolina hard cider. The clean, crisp cider is made from apples from the nearby Brushy Mountains and packaged in 750-milliliter bottles.
McRitchie patterns its cider after the dry style found in the Brittany region of France. A special spring selection is blended with sour cherries, and the fall/winter seasonal incorporates cranberries.
The Wisdom Table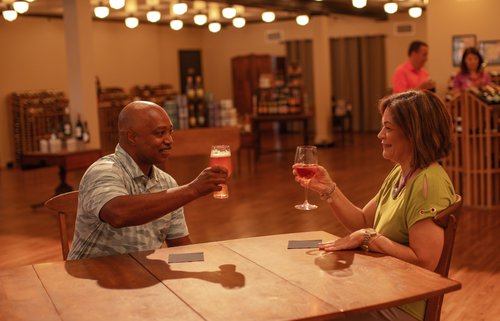 In addition to one of the most comprehensive selections of North Carolina wine, The Wisdom Table in downtown Elkin also stocks craft beer by the bottle and can.
Owner Jeremy Stamps is not only a certified sommelier, he is also a certified cicerone (beer expert), so if you're looking to expand your palate, he's happy to provide education about both beverages.
Wisdom Table's expansive retail section contains locally brewed favorites and international selections.