Elkin
Wine
Early Mornings & Hard Work Equal Continued Success at NC's First Organic Vineyard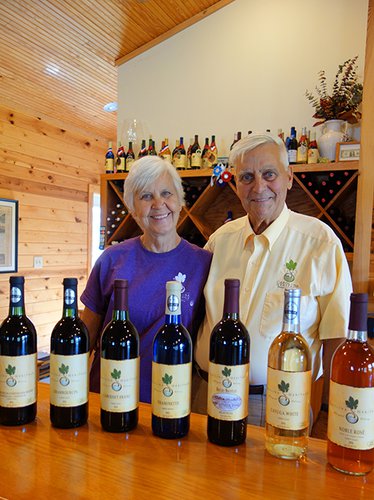 Clyde and Pat Colwell could be retired. But they have too much energy. So in 2005 they established Carolina Heritage Vineyard and Winery — the first USDA certified organic vineyard in North Carolina — just outside the town of Elkin.
They wake up early and head to the vineyard each morning. They pull leaves to allow air to flow through the vines and reduce mildew, an unfortunate consequence of the humid Southern climate. They pick blueberries from the acre-and-a-half patch that they turn into a sweet dessert wine. They work in the winery, experimenting with blends, tasting and testing. They grow a dozen acres of American hybrid and native grapes and consistently sell out of their vintages.
For fun, Pat tends to her apple, pear and cherry trees; elderberry plants; and kiwifruit. She experiments with the fruit in winemaking. Clyde has a knack for renovation and is working with a neighbor to rehab an old farmhouse on the property for use as an overnight rental. They do take extended vacations every couple of years. And whether they're in Germany or Italy or Australia, they seek out as many wineries as they can find.
"When we went to Germany and Italy, we thought we'd learn some neat tricks and find something we could do different, but it turns out they make wine exactly the same way we do," Pat says, laughing. "It was disappointing yet reassuring."
Growing grapes, especially in a wine region as young as the Yadkin Valley, is always a learning experience. The Colwells recently removed a couple acres of Rubiana, which only yielded one crop in 10 years, and replaced it with three new varieties. Cayuga grapes will produce a crisp white similar to Sauvignon Blanc. Steuben will make a nice rosé, which a local church has requested to use for communion. The standout performer so far has been Frontenac, a hybrid from Minnesota that is used for dry and sweet reds.
"I told Clyde if that grape has been bred for the cold weather of Minnesota, it thinks it's in heaven here," Pat says.
Vineyard chickens serve as "bug control." Tasting room visitors are quite fond of the flock, and the chickens enjoy the Chex Mix customers share.
Finding organic supplies can be a challenge for the winery. The Colwells rely on Seven Springs Farm near Galax, Virginia, which specializes in organic farm and garden supplies. They keep catalogs on hand for when customers ask what they use to treat various plant conditions.
"Organic remedies aren't as effective as chemicals, but they suppress the problem and give the grapes a good shot," says Pat, who is proud of the winery's organic certification.
Although Pat and Clyde both worked hard in their previous careers, he in education and she at IBM, Pat says she never knew what working hard really was until establishing Carolina Heritage.
"I've learned that nobody works harder than a farmer," she says. "But I can't imagine what I would have been doing for the past 15 years if it hadn't been this. It's a peaceful life."
[RELATED CONTENT: Visit the Surry County Wine Trail by clicking here]