Budbreak
Elkin
Festival
Mount Airy
Wine
Music
May is Wine Festival Month in Yadkin Valley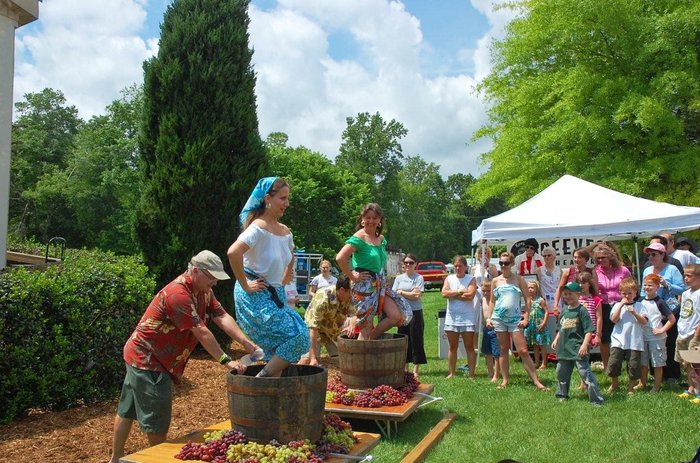 From the heart of downtown Mount Airy to the grassy expanses of Elkin Municipal Park, May brings two wine festivals to Surry County, each with its own personality, and each with award-winning Yadkin Valley wines.
Budbreak Wine & Craft Beer Festival
(1st Saturday)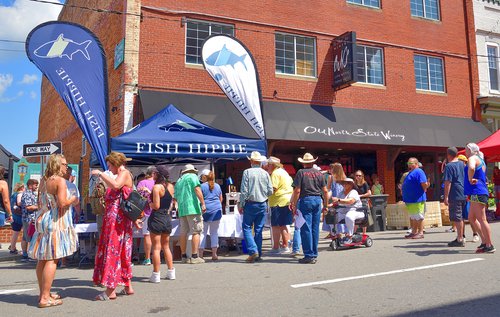 On the first Saturday of May, Budbreak Wine and Craft Beer Festival takes place in Mount Airy. The boutique festival has gained popularity for its setting along Main Street in this quaint small town in the Blue Ridge Mountain foothills.
Attendees spend the afternoon sampling locally made wine and craft beer, talking with winemakers and brewmasters, and listening to live music.
"We're in the heart of the Yadkin Valley, the largest wine-growing area in the state; we have a strong musical heritage, and the mountains are the backdrop for it all," says festival director Bob Meinecke. "The festival incorporates all of those key factors."
The festival celebrates the beginning of a new vintage. Its name, Budbreak, describes the time when grapevines awaken from their winter slumber and start budding with new growth.
Approximately 15 wineries and breweries participate each year. Tickets allow festivalgoers to taste the offerings from as many wineries and breweries as they like. The event always has a good mix of longtime favorites and new producers. Non-tasting tickets are also available.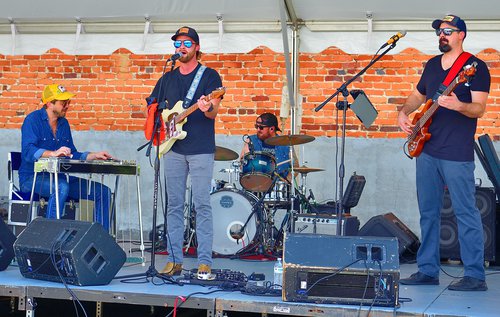 Music plays a key role in the festival. Bring your dancing shoes and enjoy a live band on the Main Street stage. The night before and immediately after the festival, Blackmon Amphitheatre, also in downtown Mount Airy, extends the fun with beach music bands as part of its summer concert series.
Food vendors and brick-and-mortar restaurants serve throughout the event.
Ticket packages are available that include local lodging, two tasting tickets, transportation to and from the festival, and a bottle of wine.
For information on this year's Budbreak Wine and Craft Beer Festival and details about buying tickets online, click here.
Yadkin Valley Wine Festival
(3rd Saturday)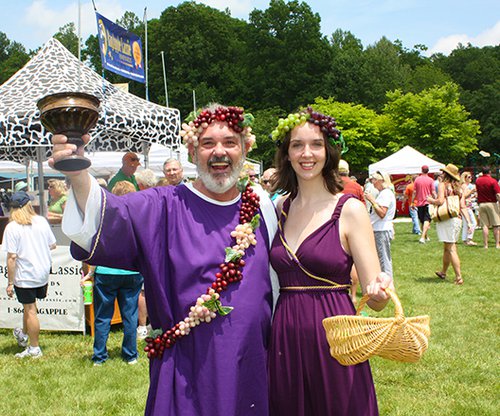 Two weeks later, on the third Saturday in May, the Yadkin Valley Wine Festival fills Elkin Municipal Park with wine, food, music and fun in a family-friendly atmosphere. The park setting allows for spreading out with a group of friends picnic-style and settling in for a festive afternoon.
For two decades, the festival has brought together some of the premier wineries in the area to celebrate North Carolina's first wine region and its continued growth. Approximately 20 wineries participate. Tasting tickets allow patrons to sample the latest vintages from these award-winning wineries all in one place.
Food trucks and vendors provide a variety of food, from festival favorites to gourmet selections. One of the event's hallmarks is the afternoon grape stomp, featuring 100 pounds of grapes. Beach music is the genre of choice, and plenty of space for dancing is available near the stage.
The event offers a wine check service for those who purchase bottles and prefer not to carry them around. Purchases are taken directly to a tent near the exit and held for pick-up as patrons leave. A shuttle service runs all afternoon to and from hotels in the Elkin area. The shuttle requires an additional fee per person.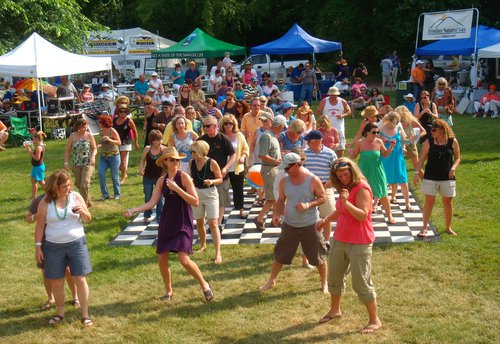 In addition to regular tasting tickets, the festival offers non-tasting tickets, and anyone younger than 16 is admitted for free. VIP tickets, including preferred parking, food and a T-shirt, are available.
Cycling enthusiasts can start the day by riding the Tour de Vino. Choose from rides of 30 miles, 31 miles, 52 miles, 71 miles or 100 miles along the scenic byways of Surry, Wilkes and Yadkin counties. The routes weave through the Yadkin Valley wine region, passing several vineyards and wineries.
Upon returning to Elkin, cyclists are welcomed with showers, a meal and free admittance into the wine festival.
For details on the Yadkin Valley Wine Festival, including how to purchase tickets online, click here.