Mayberry
Mount Airy
Outdoors
History
Museums
Mount Airy Ghost Tours for the Dearly Departed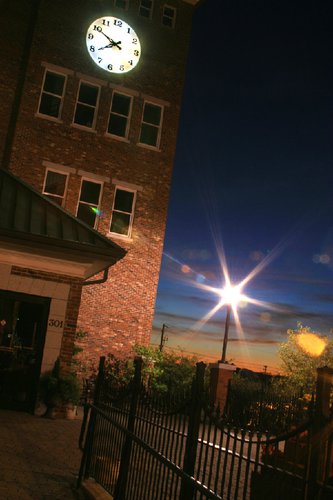 Mount Airy has plenty of interesting natives. There's Andy Griffith, of course, and singer Donna Fargo and musician Tommy Jarrell. But some of its most noteworthy characters are those of a ghostly nature. You'll learn about them all — even the resident ghost poodle and ghost mule — on the Historic Mount Airy Ghost Tours.
Organized by the Mount Airy Museum of Regional History, the tours capture local folklore to tell the history of the town by sharing chilling stories of strange happenings passed down from one generation to the next.
These popular tours, which began in 2011, run every Friday and Saturday at 8 p.m. from Memorial Day weekend through Thanksgiving. After pausing in December, the tours return in January at less frequent intervals until Memorial Day weekend, when they go back to every Friday and Saturday.
"The tours give a great overview of downtown history and several iconic spots in Mount Airy," says Jessica Roberts with Mount Airy tourism. "It's an interestingly spooky experience thanks to the guides, who are always entertaining."
The 90-minute, lantern-lit walking tours begin and end at the museum on Main Street. If the weather prohibits going outdoors, tours take place in the three-story museum, which provides an intriguing setting of old hardwood floors and large windows overlooking town and the surrounding foothills. Cost is $15 per person and reservations are required.
While many stories are based in fact, some have been embellished over the years, and others, while starting with a kernel of truth, are woven to suit a specific downtown location.
"Most are founded in local stories and experiences from real people," says Kate Rauhauser-Smith, tour guide and visitor services manager for the museum. "There's always a healthy dose of local history. You'll learn why Mount Airy is where it is and the history of the buildings, people and region."
One of Rauhauser-Smith's favorite stories involves a car explosion that killed a man in the early 1950s. His final quote, "I don't have an enemy in the world," ended up in newspapers across the country. The investigation went on for years — involving a second attempted car bombing that nearly killed his widow — and included multiple police departments, the State Bureau of Investigation and FBI.
"It's just such a great story," she says.
To find out how this story turns out and hear a few other spine-tingling tales, you will need to sign up for a ghost tour. Check out the Mount Airy Museum of Regional History website by clicking here.