Elkin
Secluded Urban Mountain Bike Trail Debuts in Elkin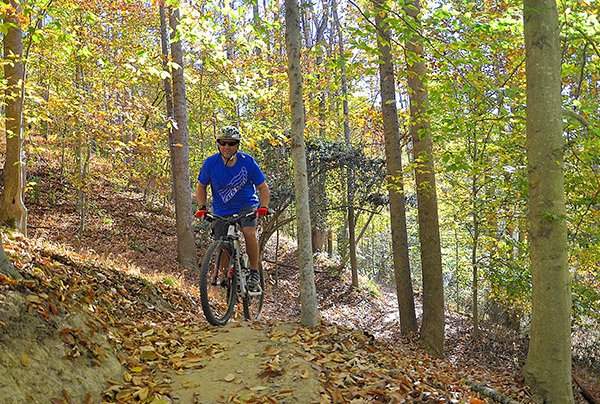 A secluded mountain biking route with gorgeous scenery opened in the spring of 2017 in the heart of Elkin, NC.
The Elkin Creek Mountain Bike Trail encompasses four miles built in two phases. The first phase is a 2.5-mile intermediate loop, while the second phase is a 1.5-mile intermediate to difficult loop. A third phase will add another two miles by year's end.
The existing four miles are in old growth forests on cliffs above Elkin Creek, a large stream suitable for kayaking, canoeing and tubing. Even though the trail is within the city limits, the route is secluded with very few parallel runs.
"You don't see a single house or structure along the trail. You're totally in the woods, even though it is in the heart of Elkin," says Bill Blackley, chairman of the Elkin Valley Trails Association.
The trail was built by the all-volunteer Elkin Valley Trails Association, founded in 2011. EVTA has nearly 300 active members and has constructed about 16 miles of trails to date.
The trail head for the Elkin Creek Mountain Bike Trail is at the Elkin & Alleghany Railroad smokestack sculpture at Elkin Municipal Park. The park has restroom facilities and ample parking.
The trail is open daily, weather permitting, free of charge.
For more outdoors activities in Surry County and the Yadkin Valley, visit our outdoors page.