Festival
Pilot Mountain
Music
Spring Means Fun Times in Downtown Pilot Mountain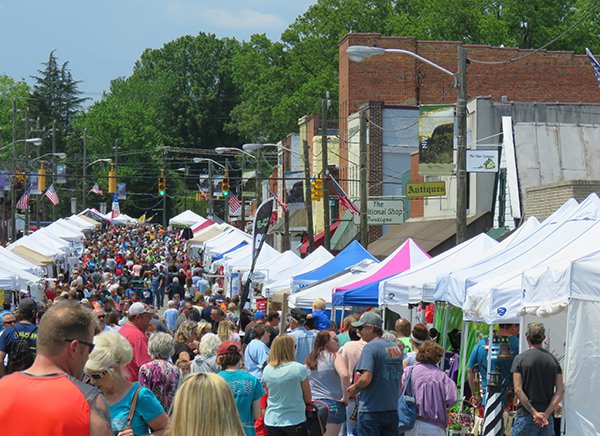 Pilot Mountain's welcoming Main Street naturally attracts travelers, shoppers and diners. The quaint foothills town, named for the landmark quartzite knob just a mile or so south, houses a mix of mom-and-pop retail shops, antiques stores, cafes, coffeehouses and bed-and-breakfast inns.
This Main Street infrastructure makes Pilot Mountain a popular destination in this era of downtown revitalization.
"Developers all over are now building developments that look like mini-downtowns," says Scott Needham of the Pilot Mountain Tourism Development Authority. "We don't have to build a shopping center that looks like downtown because we have a great downtown."
Downtown Pilot Mountain hosts annual events each spring that locals and visitors look forward to year after year.
Pilot View Vintage Market turns downtown into an antiques marketplace with 130 vendors interspersed with Main Street businesses. Vendors from all over offer a variety of merchandise, such as antique furniture, jewelry, home and yard decor, artisan soaps, turned wood pieces and other handcrafted items.
"Our Main Street already has that neat vintage look to it, so it works really well for this sort of thing," Needham says.
The vintage market also takes place in the fall. For information on the next market, click here.
Longtime Pilot Mountain favorite Mayfest returns on Mother's Day weekend. The annual festival includes handmade arts and crafts, plants and flowers, children's games and activities, local musicians and festival food. The shops and restaurants along Main Street add to the lively atmosphere.
Pilot Mountain offers a variety of lodging options. Choose from hotels, inns, bed-and-breakfasts and rental cabins. To plan your stay, click here.