Wine
Upper Yadkin Valley Wine Trail: Self-Guided Tour of 5 Wineries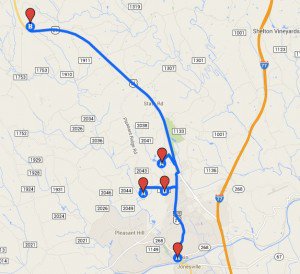 If visiting the Yadkin Valley is on your to-do list, there are over 40 tasting rooms to choose from. It is often easier to follow one of the wine trails for a more relaxed pace. Within Surry, the Upper Yadkin Valley Wine Trail is a self-guided tour, connecting five very distinctive wineries beginning in Elkin and ending near Thurmond. This off-the-beaten-vine-laden trail follows US 21, and is a perfect day or half-day outing.
The Upper Yadkin Valley Wine Trail begins in downtown Elkin at Brushy Mountain Winery where you can sample wines with intriguing names like Booger Swamp White Wine and Bugaboo Creek. From there, you make your way to one of the area's newest wineries—Adagio Vineyards. "Adagio" is a musical term, meaning to perform slowly with passion. The owners believe this term adequately describes their passion for winemaking, music, and violin making.
Next on the tour is Elkin Creek Vineyards where you can choose from one of four luxury studio cabins and stroll by the historic mill, circa 1896, which was one of the first grist mills in the area. The owners moved from their roles on the Blue Man Group in Las Vegas to operate the vineyard in Elkin, North Carolina.
The next stop is Grassy Creek Vineyard, initially a dairy barn and creamery and a rural retreat for John Hanes of the underwear company. The renovated wine-tasting barn is surrounded by 20 acres of vineyards. The final stop of the Upper Yadkin Valley Wine Trail incudes McRitchie Winery & Ciderworks who specializes in small lots of award-winning wines and hard ciders. Sean McRitchie's father was a winemaker in California and Oregon, which prompted Sean to work in wineries and vineyards in northwest North Carolina.
Upper Yadkin Valley Wine Trail:
Brushy Mountain Winery
125 W. Main Street Elkin, NC
Adagio Vineyards
39 Benge Drive Elkin, NC
Elkin Creek Vineyard
318 Elkin Creek Mill Road Elkin, NC
Grassy Creek Vineyard and Winery
235 Chatham Cottage Circle State Road, NC
McRitchie Winery & Ciderworks
315 Thurmond Thurmond, NC