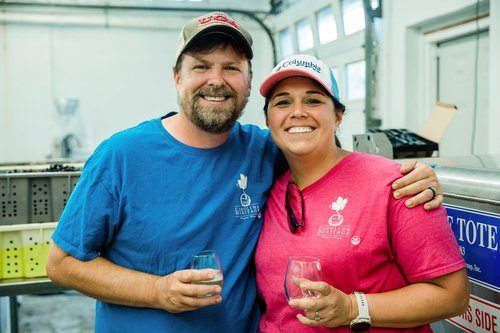 One of the Yadkin Valley's first wineries, and the first USDA certified organic vineyard in North Carolina, has begun a new chapter. Patrick and Wendy McNabb have taken over as new owners of Carolina Heritage Vineyard & Winery.
Started in 2005 by Clyde and Pat Colwell, Carolina Heritage established itself for organically grown grapes and naturally made wines served in a down-home, welcoming atmosphere. The McNabbs plan to continue that tradition now that the Colwells, who embarked on the winery journey as a retirement project, have officially retired a second time.
For the McNabbs, Carolina Heritage is a family affair. Patrick, Wendy and their two sons, ages 15 and 2, moved from Boca Raton, Florida, to Elkin to pursue the winery business. Patrick, who also works for a sustainable packaging company, oversees the farm and financials. Wendy, formerly an environmental science teacher, is the winemaker. She is currently taking viticulture and enology classes at Surry Community College.
"Wendy is learning new stuff every day," Patrick McNabb says. "Pat Colwell was kind of a mad scientist in a lot of ways, and we want to continue that. We have a variety of wines, and we make everything from sweet to dry."
Patrick and Wendy are working with winery friends and consultants to evaluate the wine lineup and winemaking process, but they expect to continue growing many of the existing French-American hybrids and native muscadine grapes. They also plan to keep experimenting, as the Colwells did over the years, to see what other varieties grow well on the farm and require less human intervention.
In addition to grapes, Carolina Heritage makes wine from apples, blueberries and elderberries. The bestseller is "apple pie," a sweet, spiced apple wine mulled with almonds, cinnamon and raisins.
Although organic farming is challenging and demands more hands-on labor, the McNabbs see the benefits and will carry on organic practices established by their predecessors.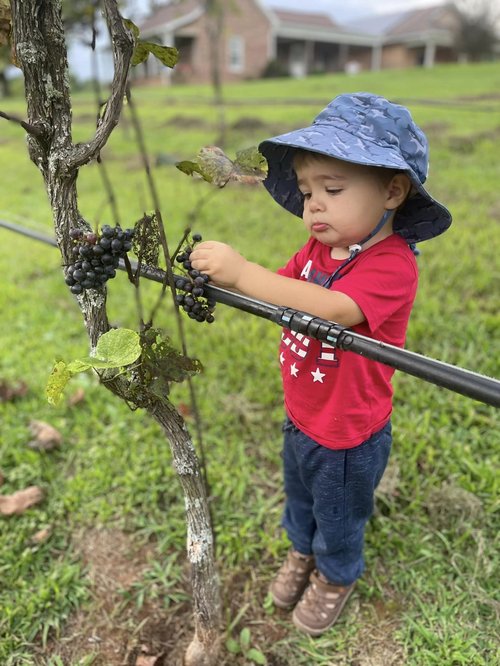 "Our 2-year-old can eat grapes straight from the vine, and there are no problems," McNabb says. "It's more work in the field, but the end product is greater."
The Carolina Heritage fowl flock — 60 chickens and 20 guinea fowl — scours the property for bugs while customers marvel at the birds. Other organic practices include broadcasting predatory bird sounds to deter wild birds from pecking ripe fruit and pulling leaves to increase airflow around the vines.
Patrick McNabb is also an Army veteran, so Carolina Heritage is now a certified Homegrown by Heroes farm.
The winery continues to host live music and rent out the on-site farmhouse through Airbnb. Tasting room hours have expanded (Friday-Monday, 1-6 p.m.), and the winery will soon offer charcuterie trays for customers to enjoy with glasses of wine.
"We fell in love with this place when we turned in the driveway," McNabb says. "We saw the vines, and we felt like we were home. We hope our customers feel that same sense of home when they visit."
To plan your trip to Carolina Heritage and other wineries along the Surry County Wine Trail, click here.