Breweries & Spirits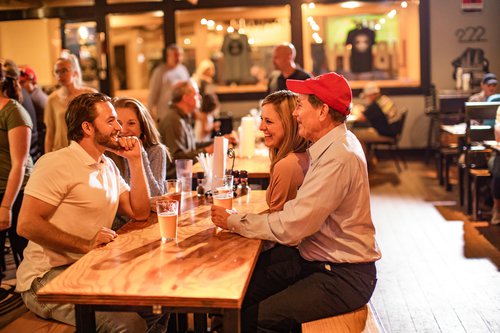 Even in the heart of wine country, travelers can find top-notch breweries and distilleries. This is North Carolina after all, a leader in the production of craft beer and spirits.
Elkin Breweries
Elkin is home to two unique craft breweries - Angry Troll and Skull Camp - both of which were started by winemakers. Skull Camp is known for brewing a range of fun brews that often cross styles. Skull Camp's tasting room is also a smokehouse restaurant, serving the finest smoked meats in the area. Angry Troll also featured a restaurant known for its wood-fired pizzas. Angry Troll is located in a historic building at 222 Main Street in Elkin.
Mount Airy Breweries & Spirits
In Mount Airy, beer aficionados should try Thirsty Souls Community Brewing and White Elephant Beer Company, located across from one another on Market Street, just a block from Main Street. Both offer a strong selection. Meanwhile, Mayberry Spirits bills itself as the "first legal distillery in Mayberry since Prohibition" and produces fine moonshine whiskey in small batches.
Scroll down to learn more about our breweries and distilleries ...