Mayberry
Mount Airy, known by many as Mayberry, is the birthplace of Andy Griffith and inspired the fictional town.
The Andy Griffith Show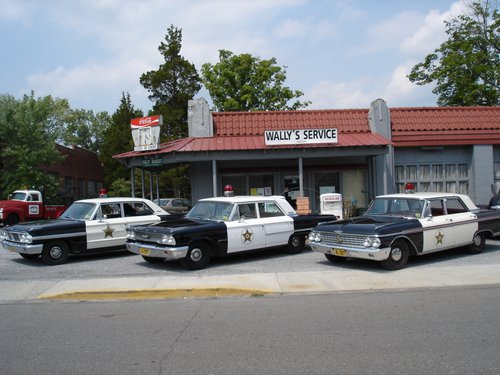 Visitors from across the United States and the world come to Mount Airy, North Carolina, to trace the steps of native son Andy Griffith and to experience, at least for a few days, life in that nostalgic place known as Mayberry – a place they fell in love with watching The Andy Griffith Show.
It's no secret Griffith based the show's fictional hamlet on his hometown. Dozens of Mount Airy people, places and things are referenced in the classic 1960s sitcom. And the fabric of life in Mount Airy echoes that of Mayberry. People are welcoming, the pace of life is relaxed and there's a genuine spirit of community and friendship that visitors notice as they enjoy a taste of real-life Mayberry.
Mayberry Attractions
The list of "Mayberry" offerings in Mount Airy is lengthy. For starters, there's the Andy Griffith Museum, which houses the world's largest collection of Andy Griffith memorabilia. Most of the items were collected by the late Emmett Forrest, who was a life-long friend of Griffith. The museum has props from the TV show, items from Griffith's long career in music, TV and film, and personal items donated by actors on the show, including Griffith.
In front of the Andy Griffith Museum is the TV Land Landmark statue of Andy and Opie walking to the fishing hole. Next door is the Andy Griffith Playhouse, the former grade school auditorium where Griffith made his first appearance on stage.
One of the most popular activities is taking a squad car tour of town. Mayberry Squad Car Tours last about a half hour and include many of the key places in the life of Andy Griffith, including his boyhood home and the church where he first learned to play music.
Visitors also stop by Floyd's City Barber Shop for a haircut, and eat at Snappy Lunch, a place mentioned on the show. Another pastime is browsing the Mayberry-related stores on Main Street.
Serious fans like to stay at the Mayberry Motor Inn, which has a room with items from the estate of actress Francis Bavier (Aunt Bee). And some fans even go a step further by spending a night at the Andy Griffith Homeplace, the two-bedroom bungalow at 711 East Haymore Street that was Andy's boyhood home. It's now a vacation rental owned by the local Hampton Inn.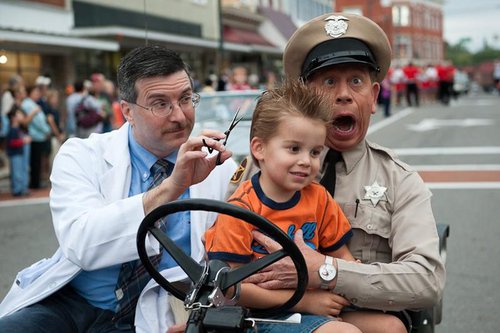 Mayberry Days
Since 1990, people have gathered in Mount Airy each September for a week-long celebration known as Mayberry Days.
Fans of The Andy Griffith Show travel from far and wide to pay tribute to the town known as Mayberry. The festivities include appearances by actors from the show, as well as tribute artists, musical performances and comedy routines. Other events include Colonel Tim's Talent Time, Aunt Bee's Bake Sale, Mayberry trivia competitions, a pie eating contest and a checkers tournament.
Join us for this year's 33rd Annual Mayberry Days, Sept. 19-25, 2022. Find out more here: Mayberry Days official website
Mayberry Attractions
Scroll down for detailed listings of the Mayberry attractions in Mount Airy ...