Kids
Dobson
History
Culinary
Hungry for History? Highway Marker Leads the Way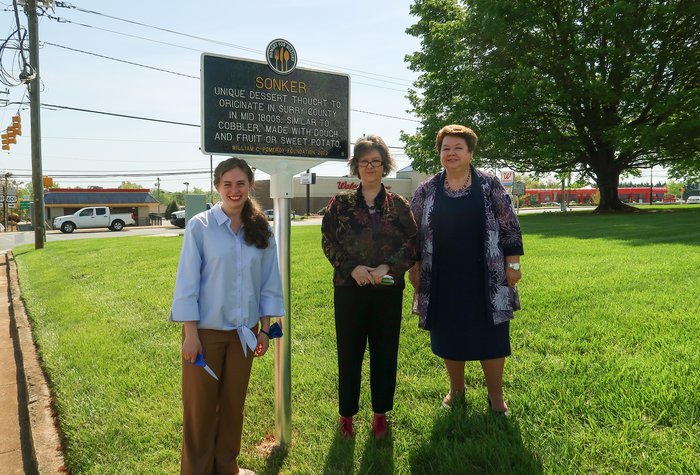 The national Hungry for History highway marker program has raised its fork of recognition to Surry County's signature dessert.
Sonker became a permanent part of this heritage foodways program with the unveiling of a roadside marker on April 22, 2022, in downtown Dobson. The roadside sign honors sonker for its historical significance in the county, which is home to the Surry Sonker Trail.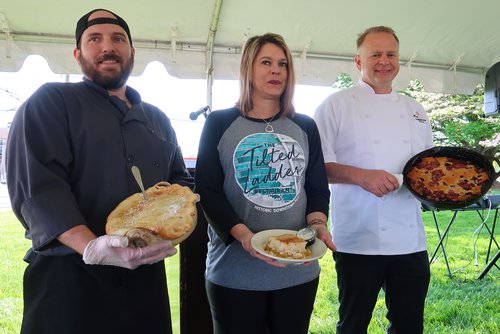 Sonker was admitted into the Hungry for History grant program during its inaugural round. The program is part of the William G. Pomeroy Foundation and ensures cherished culinary traditions passed down through decades across the United States will live on for generations to come.
"Food serves as a great connector," said local historian Lisa Turney during the marker dedication ceremony. "Whether you choose to settle down in the same neighborhood you grew up in or move thousands of miles away, the minute you make an old family recipe it identifies who you are, where you come from and the history of your people."
The origins of the name sonker date back at least to Surry County's original settling, if not earlier. Scottish and Scotch-Irish immigrants began settling in the Yadkin Valley of North Carolina in the early 1700s, and Surry County was officially formed in 1771. The word sonker comes from the Scottish dialect and originally referred to a small, grassy knoll that could have been used as a seat. The meaning evolved to describe a seat made from bundles of hay or straw, and eventually a saddle of straw.
Many suspect the irregular dough covering the bumpy filling reminded cooks of a knoll or saddle, prompting the term sonker. Another school of thought says the dessert derived its name from the word "sunk" because the crust of a sonker sinks into the fruit filling. After being passed down through decades of rural Carolina dialect, perhaps sunker became sonker.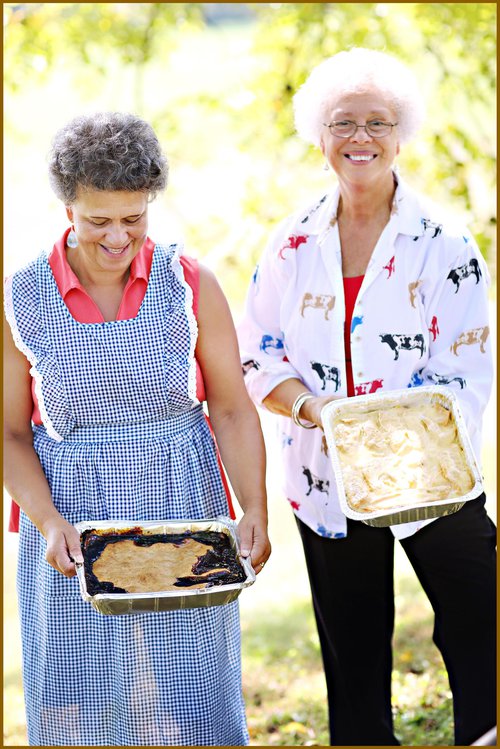 Although it's hard to say for sure where the name sonker came from, it's much easier to say what it is. Sonker is best described as a hybrid between a cobbler and a deep-dish pie. Generations of Surry County residents handed down recipes and tweaked them to suit their tastes and available ingredients.
Sonker comes about by blending fruit and unshaped dough, often sweetened with sugar or molasses, and an occasional spice of the cook's preference. It can be accompanied by a dip (glaze) made of cream, sugar or molasses, and a few drops of vanilla extract.
Some recipes call for a pie-like crust, while others call for a breadcrumb topping. Some cooks make their sonker in a pot on the stove, with a crust more akin to dumplings. Popular fruits used include: blackberries, peaches, raspberries, strawberries, apricots, huckleberries and apples. Sweet potatoes are also used. It is believed that folks in Surry County made sonker to stretch their fruit during tough times or make use of overripe fruit.
"This juicy deep-dish pie, or cobbler, was an original farm-to-table food for the rural population since they had access to all the ingredients on their own land," said Dr. Annette Ayers of the Surry County Historical Society.
In addition to sonker, other Hungry for History members include: barbecued chicken from Lansing, New York; beef on weck from West Seneca, New York; buckwheat cakes from Kingwood, West Virginia; chicken brissil from Greenville, Alabama; chocolate jumbles from Esperance, New York; Michigan hot dogs from Plattsburg, New York; and salt potatoes from Liverpool, New York
"The Hungry for History program will shine a light on the foods across our country that have brought us together, set our communities apart and helped define who we are," said Deryn Pomeroy, trustee and director of strategic initiatives for the foundation. "We couldn't be more thrilled to partner with communities nationwide and help tell the stories of these regional specialties that are such a part of our collective identity."
To enjoy sonker yourself, visit one of the many locations on the Surry Sonker Trail. From downtown restaurants to bakeries, general stores and wineries, each location has an original take on the historical dessert. Click here for a free map brochure.