Kids
Elkin
Mount Airy
Pilot Mountain
Outdoors
Woof, Woof — Explore Pet-Friendly Yadkin Valley with Furry Family Members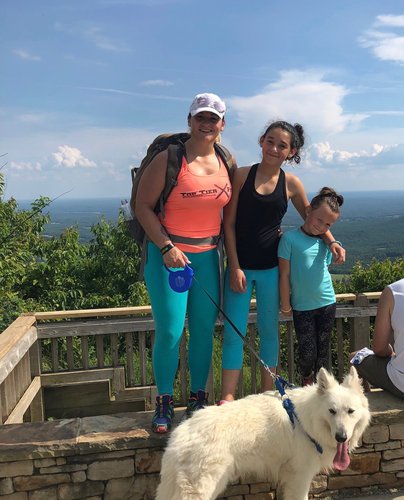 If your vacation involves a furry family member, you'll be pleased to find that Surry County in the Yadkin Valley is a pet-friendly destination. Stroll downtown sidewalks, hike state parks and trail networks, and enjoy a wine tasting or pint of beer with your pet by your side.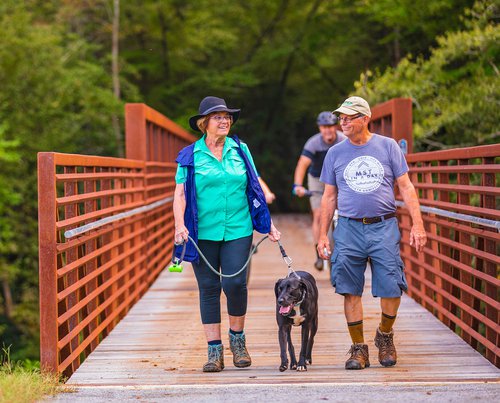 Located in the foothills of the Blue Ridge Mountains, the Yadkin Valley has become a hot spot for outdoor adventure. Elkin in particular is known for its hiking trails. Everyone loves a good walk with a reward at the end, so grab the leash and hit the Grassy Creek Trail. This moderate, mile-and-a-half trail meanders through pine forests before ending at Grassy Creek Vineyard & Winery. Humans enjoy wine tastings in the Red Barn Tasting Room as pups relax by the stone fireplace.
Meanwhile, North Carolina's Mountains-to-Sea Trail runs right down Elkin's Main Street, so beer lovers should take a sidewalk stroll to Angry Troll Brewing's pet-friendly tasting room. Keep an eye out for Pups, Poses & Pints, a frequent taproom event hosted by a local yoga studio that introduces dogs and beer to your yoga practice.
Another hiking destination is Pilot Mountain State Park. Take the Jomeokee Trail for a moderate hike that circles the park's namesake knob. A 42-site campground for tent and trailer camping is family- and dog-friendly.
No pet will want to miss a visit to The Grand Pup Resort Hotel & Spa in downtown Mount Airy. Drop off your dog or cat for an afternoon of pampering or for an overnight stay. This four-legged only resort hotel pleases even the pickiest K-9s and felines, from specialty grooming services to large suites for families of pets and green space out back for fresh air and exercise.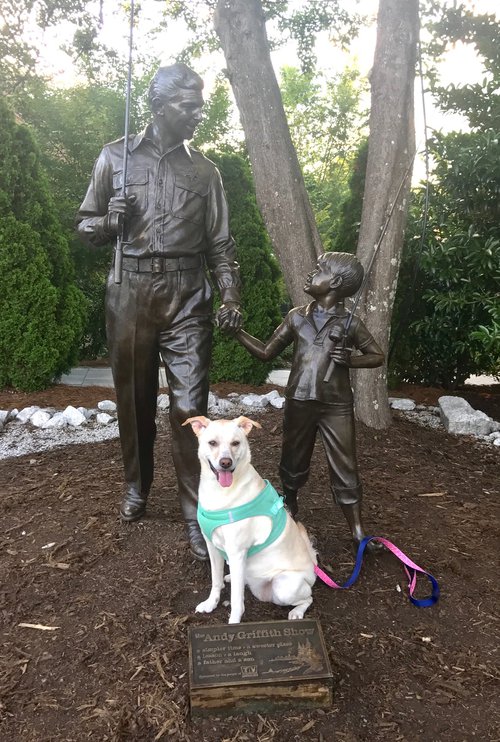 After a spa treatment at the Grand Pup Resort, visit The Dapper Hound boutique to purchase the latest pet fashion accessories, along with locally made Mutt Munchies dog treats. For those who prefer to lodge with their pets, Round Peak Vineyards, just west of Mount Airy, caters to dog lovers. The vineyard's two rental cabins are pet-friendly with large screened-in porches and room for eight humans each. Walk to the winery and enjoy a glass of wine with a view of the sunset over the Blue Ridge Mountains.
Mount Airy is the hometown of Andy Griffith and is known for its Mayberry attractions. If your dog loves watching The Andy Griffith Show, or perhaps you do, make sure to visit the replica courthouse and jail beside Wally's Service Station and snap a photo in front of the TV Land Andy & Opie Statue in front of the Andy Griffith Museum.
Shelton Vineyards in Dobson is a must-visit Yadkin Valley destination. Stroll manicured grounds with your pup in tow and enjoy the beauty of North Carolina's largest family-owned estate winery. Pack a picnic and pair it with a bottle of Shelton wine for a lovely lunch on the grounds. Several cabins in the Dobson area welcome pet family members.
For a full list of pet-friendly activities and lodging properties in the Yadkin Valley, click here.
Also, as you browse this website, look for the animal paw icon on the listings of attractions, wineries, breweries and accommodations. That signifies a pet-friendly business.