Dobson
Elkin
Mount Airy
Pilot Mountain
Outdoors
Map Your Way to Outdoor Adventure in North Carolina Wine Country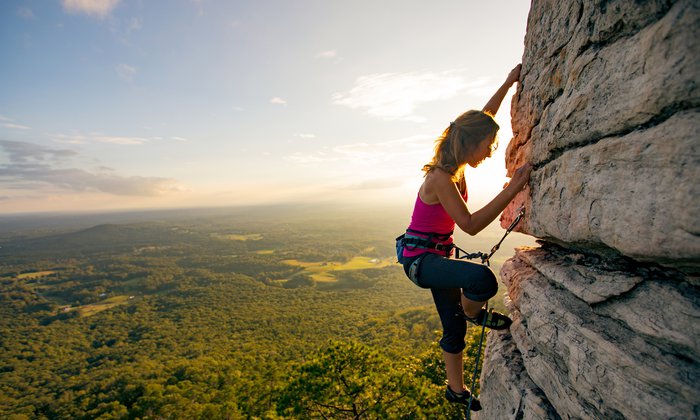 Surry County, in the heart of North Carolina's Yadkin Valley, has always been a playground for outdoor adventure, and now there's a map guiding the way.
The Surry County Four Rivers Outdoor Adventure Map – available both in print and online – highlights paddling, cycling, fishing and hiking options in a place that is quite geographically diverse. Surry County is home to the iconic Pilot Mountain, a quartet of rivers, rolling foothills and higher elevation mountains as the topography climbs toward Stone Mountain and the Blue Ridge Parkway.
The message behind the map, say county leaders, is that Surry isn't just for wine lovers.
"This can be a place for people to come and really enjoy the rivers and the trails," says Scott Needham, chairman of the Tourism Partnership of Surry County. "For people in our state and all over the East Coast, we provide a quick, easy trip to a really nice vacation spot. I'm very happy that we are re-discovering the great natural resources we have."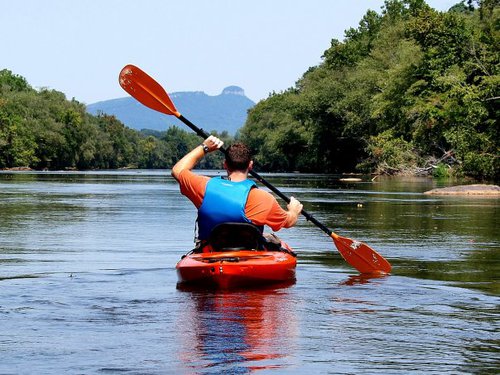 A cornerstone of that rediscovery is the outdoor adventure map. The full-color, fold-out map details 100 miles of canoe/kayak streams, 500 miles of official bike routes and 36 miles of stocked trout waters. It also includes the NC Mountains-to-Sea Trail route across the county, as well as other hiking areas. The county's 15 wineries are an important feature, too.
River enthusiasts love the map because it lists two dozen access points on the four rivers, while providing mileages between access point. The four rivers are the: Yadkin, Fisher, Mitchell and Ararat.
"You can look at the map and determine mileages from point to point on each river. That way, you can really plan out your trip before you get here," Needham explains. "And once you're here, the map is fully interactive on our website, YadkinValleyNC.com."
The interactive map also includes a lodging layer that displays all accommodations available county-wide, allowing people to stay where they play.
"I'm excited about the interactive map online," adds Needham. "I think we are able to touch more people that way and help them plan a trip by seeing how far things are from each other. It allows people to take in as much of the area as they possibly can."
[Related content: Click here to view the interactive map]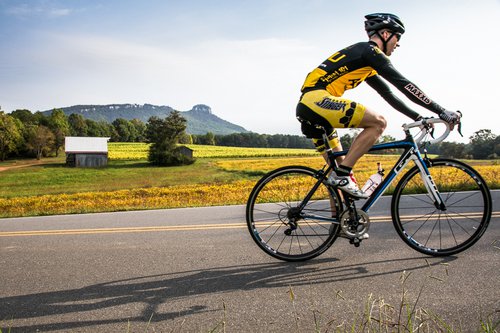 The online map will be regularly updated with more outdoor activities in and around the four Surry County towns of: Dobson, Elkin, Mount Airy and Pilot Mountain.
Elkin has been designated a "trails town" thanks to a great trails network put together by the Elkin Valley Trails Association. Dobson is home to hiking, paddling and mountain biking trails at Fisher River Park, while Mount Airy has developed the Granite City Greenway that will eventually encircle the entire town.
The town of Pilot Mountain sits right beside its namesake mountain, where Pilot Mountain State Park offers rock climbing, hiking, paddling, horseback trails and other activities.
"I feel there's something for everybody in Surry County. Even at Pilot Mountain State Park, there are definitely more difficult trails, but anybody who can walk a moderate distance can enjoy beautiful views," says Needham. "The outdoors in general are family-friendly and can be something that family members look back on fondly. And it is addictive. Once you start camping or rock climbing or any outdoor activity, you want to do it again and you want to share it with friends and family. It's multi-generational fun and a great way to spend time together."
To receive a free copy of the outdoor recreation map, complete this online request form.