Dobson
Elkin
Mount Airy
Pilot Mountain
Wine
Outdoors
Cozy Yadkin Valley Fire Pits Along the Surry Wine Trail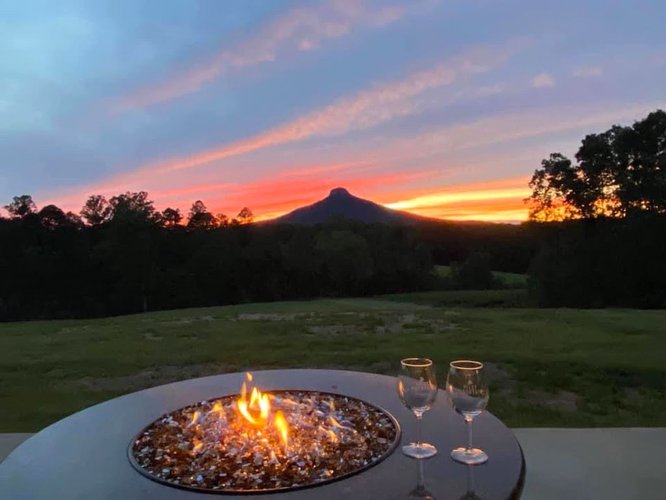 When the weather turns chilly, a glass of Yadkin Valley wine pairs perfectly with the warmth of a vineyard fire pit.
Several wineries along the Surry County Wine Trail offer outdoor areas with fire pits, perfect for gathering 'round, telling stories, listening to music and admiring views of the Blue Ridge foothills.
One of the newest wineries on the trail, Pilot Mountain Vineyards features seven fire pits on its outdoor patio with striking views of Pilot Mountain. The propane pits provide all the pleasures of a fire without the smoky smell. These pits are generally first come, first serve. However, small groups can make advance reservations to ensure a fireside spot.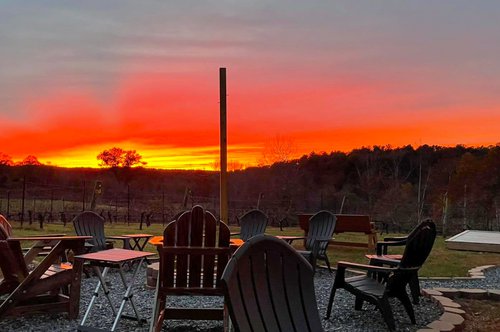 "We have live music with local musicians every Sunday, and the plan is to continue that all winter long," says co-owner Kari Barbar. "We have indoor seating as well, so some people can sit inside, and some can sit at the fire pits."
Golden Road Vineyards also has multiple fire pits positioned around its stage for live music. The winery in State Road, just outside Elkin, invites guests to "wine down" their week with Fridays by the Fireside, sipping estate wines and watching the sky turn pink as the sun sinks behind the Blue Ridge Mountains.
Sunset is also a favorite time to gather on the terrace of Serre Vineyards in Mount Airy.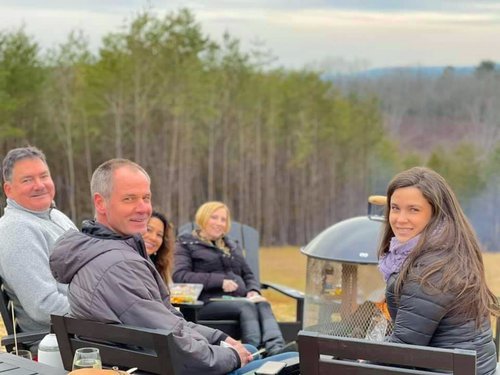 The 70-acre estate at Serre Vineyards borders the Fisher River with a sweeping mountain view. Snag an Adirondack chair and pull it up to the wood-burning, cauldron-style pit. The family-friendly winery often has marshmallows for roasting (for kids and adults).
[Related content: Enjoy Warm Wine & Cozy Times Trail in winter 2022]
Making s'mores is a popular activity at Adagio Vineyards in Elkin. Enjoy a tasting of eight wines, seven dry and one semisweet, inside the well-appointed tasting room. Then choose a glass or bottle and retire by the propane-fed fire pit overlooking the boutique vineyard planted with Cabernet Franc.
Don't miss the French-American hybrid Arandell, which is a deep, dark wine with intense fruit flavor that's just right for cool evenings at Adagio.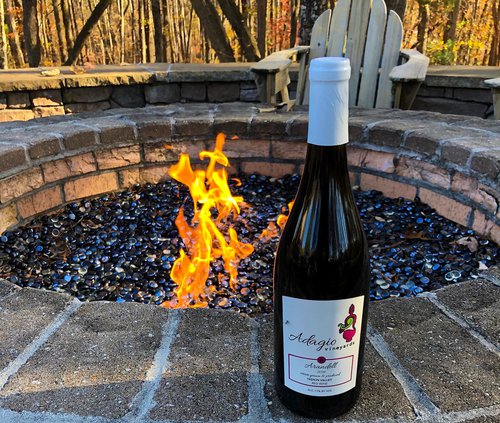 Grassy Creek Vineyard and Winery's sprawling property in Elkin, once the hunting and vacation playground for the Hanes and Chatham textile families, is ideal for taking a hike, enjoying a glass of wine and letting go of daily worries. Two fire pits add to the relaxing nature, one outside the Red Barn tasting room and another near the covered pavilion.
In Dobson, Stony Knoll Vineyards has quite a history. This NC Century Farm has been in the Coe family for 125 years. Tobacco, hay and cattle once filled the fields that now contain a 10-acre vineyard. The patio has an outdoor fireplace for keeping warm sipping red mulled wine, a favorite seasonal tradition for colder months.
The back patio at Round Peak Vineyards is a popular gathering spot year-round, but it becomes extra special with a roaring bonfire on the adjacent lawn. The winery's location in northern Surry County is framed by Blue Ridge Mountains. Sit by the fire with a glass of dry or semi-sweet wine, or one of the winery's own craft beers from its Skull Camp label.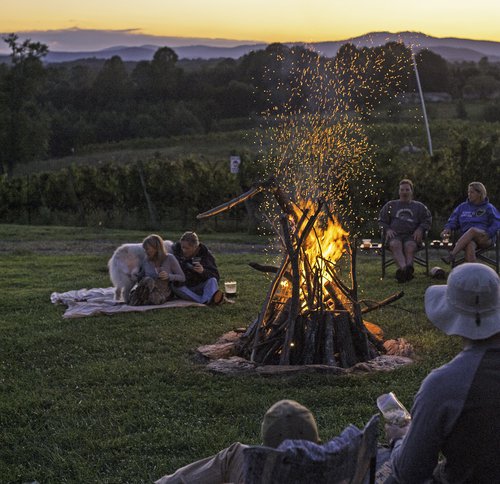 To learn more about the Surry County Wine Trail and request a free map, click here.
[Related content: Enjoy Warm Wine & Cozy Times Trail in winter 2022]