Dobson
Elkin
Mount Airy
Wine
Outdoors
Culinary
These 8 Yadkin Valley Wineries are Top Spots for Picnics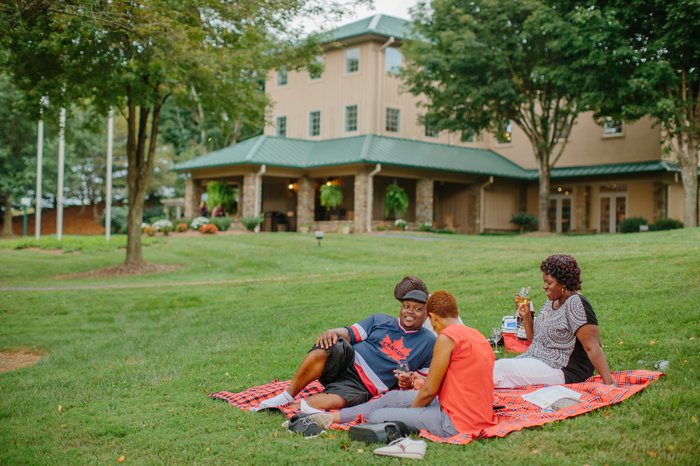 Picnic opportunities are available at several vineyards along the Surry County Wine Trail. No fewer than six wineries on the trail allow guests to bring a picnic, while another two will prepare picnics for guests and have them ready upon arrival.
The six wineries that allow folks to pack a picnic are: Adagio, Carolina Heritage, Grassy Creek, Haze Gray, Stony Knoll and Round Peak.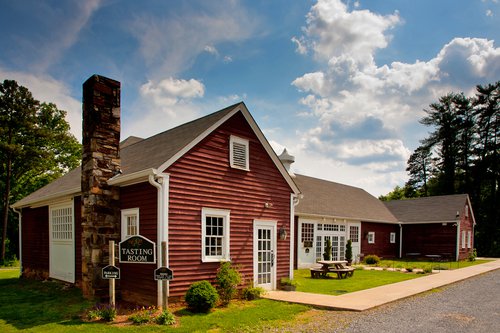 At Grassy Creek Vineyard & Winery in Elkin, the property draws nearly as much attention as the wine. People come to sip barbera, cabernet franc and steel-aged chardonnay in the red-barn tasting room, but they also come to enjoy the surrounding property that was once a working dairy farm and country retreat for titans of the textile industry.
"We have a nice opportunity for folks to come and be outside, listening to the babbling creek, taking a walk in the woods where it's shady and cooler," says Cynthia Douthit, co-owner of Grassy Creek.
Grassy Creek guests are welcome to bring picnics and spread out with a bottle of wine for an alfresco lunch or afternoon snack. Tables and umbrellas dot the grassy bank overlooking the tasting room, and a covered pavilion also has tables close to the vineyard.
Two picnic tables located in the woods down Grassy Creek Trail were built by local Boy Scouts as Eagle Scout projects. Follow the trail a mile and a half to come out at Byrd's Branch Campground and the entrance to Carter Falls Trail, where a short hike leads to the falls. The trail is part of Segment 6 of the Mountains-to-Sea Trail.
"The vision for our winery was to be casual and comfortable for all, and the surrounding grounds contribute to that feeling," Douthit says. "We're happy to provide information about what other vineyards are doing to guide guests to their next experience."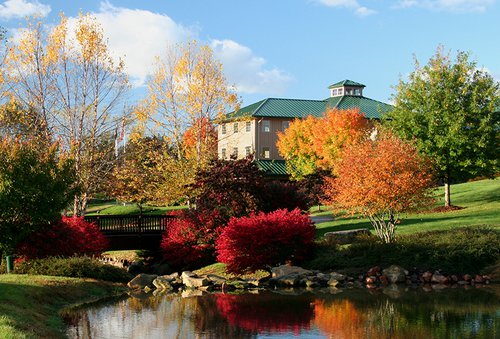 And don't forget the two wineries that will take care of the meal for you – Shelton Vineyards and Elkin Creek Vineyard.
Shelton is North Carolina's largest family-owned estate winery with plenty of rolling hills and scenic spots for spreading a blanket, relaxing and savoring a farm-to-table meal prepared on-site at The Harvest Grill by Chef Frances.
Guests wishing to enjoy a picnic on the expansive grounds of Shelton Vineyards are asked to place their order at least 24 hours in advance.
Every weekend, Elkin Creek Vineyard serves gourmet brick-oven pizzas, along with salads and sides. Dining locations include the tasting room porch, harvest barn and assorted picnic tables. Elkin Creek also has creekside tables beside an old grist mill.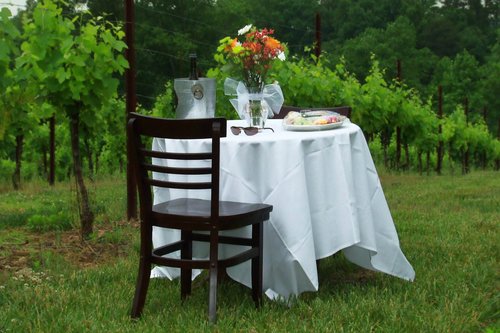 Reservations are required for pizzas on Saturday and Sunday at Elkin Creek. Guests may bring their own snacks on Thursday and Friday when the kitchen is closed.
To plan your picnic along the Surry County Wine Trail, click here.