Elkin
Elkin: A Trails Town Located on the Yadkin River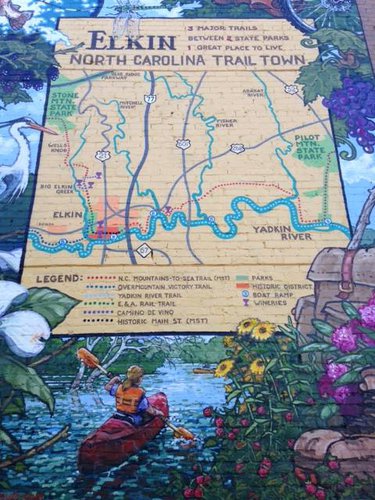 People evaluate their hometowns in many different ways. In Elkin, the town's vitality lies in its abundance of hiking, biking and paddling trails.
At a recent gathering of the Friends of the Mountains-to-Sea Trail, Elkin Mayor Sam Bishop touted the importance of Elkin's trails. As the town has transitioned from a textile and furniture manufacturing town to a more tourism-based economy with wineries and art galleries, theaters and restaurants, the trails have played an important role.
When people come to the Blue Ridge foothills of Surry County, they want to get outdoors and explore. They want to escape their stress and worry. And step by step, the trails of Elkin allow them to do just that. Three sanctioned trails converge in Elkin.
The Mountains-to-Sea Trail runs right down Main Street as it travels southeast from Stone Mountain State Park to Pilot Mountain State Park. The entire trail spans 1,175 miles from Clingmans Dome in the Great Smokies to Jockey's Ridge on the Outer Banks.
The Yadkin River Blue Water Trail includes 125 miles of paddling, as well as swimming and fishing. The Elkin access at Crater Park allows camping and provides easy access to Main Street shops, tasting rooms and restaurants.
The eastern terminus of the Overmountain Victory Trail lies in Elkin Municipal Park. The trail follows the route of Revolutionary War soldiers until it reaches the site of the Battle of King's Mountain, which took place in 1780.
The thing about trails is that they're always changing. New routes need to be built; existing pathways must be maintained. A group of dedicated volunteers called the Elkin Valley Trails Association is determined to make the network of trails running through Elkin even stronger. Not only do they want to better the trails, their mission is for the trails to improve the quality of life in the town.
On a site that was once a lumberyard, the new Yadkin Valley Heritage Arts and Trails Center is under construction and scheduled to be complete in the fall. It will house showers and lockers, as well as information about the history of the area and current things to do.
It will be a resource for hikers, bikers and paddlers and another step in Elkin's healthy future.