Dobson
Elkin
Pilot Mountain
Outdoors
Leave Only Footprints: 7 Steps for Responsible Adventures in Yadkin Valley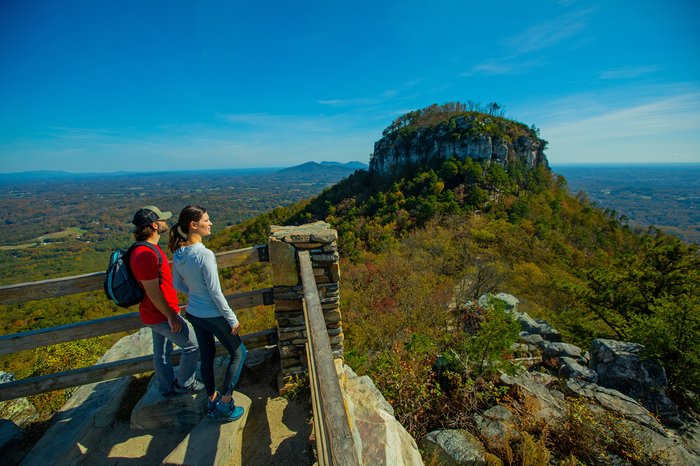 Outdoor recreation opportunities abound in Surry County and the surrounding Yadkin Valley. The rural, rolling terrain of the Blue Ridge foothills provides open spaces and a beautiful backdrop for hiking, cycling and horseback riding.
Surry County's four rivers teem with fresh water and abundant wildlife, both in the streams and on the banks, making them a destination for paddling, fishing and wildlife watching. And for those who prefer to dangle, several areas are suitable for rock climbing.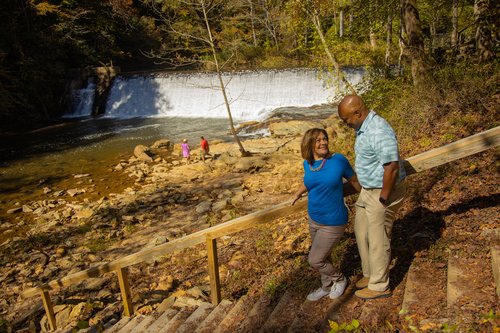 With all these outdoor attractions to be explored, it's important everyone accesses them responsibly, preserving natural resources for return visits and future generations.
Visit North Carolina and the North Carolina Office of Outdoor Recreation recently partnered with the national Leave No Trace organization to develop a statewide initiative called Outdoor NC. This sustainability program educates visitors about the best ways to have fun in the outdoors without damaging the attributes that make these places special.
Outdoor NC outlines seven principles for responsibly spending time in North Carolina's wild spaces. We encourage everyone to take these ideas to heart when planning and enjoying your Surry County visit.
If you follow these seven guidelines, not only will you leave the area in a better condition for future visitors, you'll likely have a better and more rewarding experience.
PLAN AHEAD — Before you travel, learn about your destination, its regulations and safety matters.
This first one should be easy. We have developed a collection of four fun Yadkin Valley itineraries focused on the town of Elkin. One involves a full weekend with 72 hours packed and planned. One is specific to wine aficionados, while another details where to find live music. Of particular interest here is an itinerary all about the outdoors, complete with hiking, biking and paddling.
STICK TO TRAILS AND OVERNIGHT RIGHT — Keep to designated trails and durable surfaces to protect trailside plants. Camp at existing or designated sites.
The town of Elkin has one of the most active trail organizations in the state. The Elkin Valley Trails Association constructs, maintains and enhances Elkin's network of trails on a regular basis, eliminating any need to venture off these pristine paths. Elkin's interesting location makes it the only town in North Carolina where three sanctioned trails converge: The Mountains-to-Sea Trail, Yadkin River Blue Water Trail and the Overmountain Victory Trail. Check out three great Elkin hikes for all different skill levels.
TRASH YOUR TRASH — Pack it in, pack it out. Place all trash in garbage bags and carry it home.
Many of Surry County's outdoor recreation destinations have well-established organizations supporting them, so resources like trash receptacles are easily accessible. Pilot Mountain State Park, for example, opened a state-of-the-art visitor center in fall 2020 with expanded restroom facilities. Many picnic areas and campsites throughout the park have trash bins nearby. To learn more about the park, click here.
LEAVE WHAT YOU FIND — Snap a picture instead of picking flowers, gathering shells, and collecting pine cones. Leave rocks as you find them to protect critters' sensitive habitats, prevent erosion, and avert other ecological impacts.
Show off your photos along the trails, waterways and countryside of Surry County by sharing on social media and tagging #YadkinValley. Learn more about the area and see what others have found on their journeys by visiting Yadkin Valley, NC on Facebook and Instagram.
BE CAREFUL WITH FIRE — If you choose to have a fire, check on regulations, secure a permit if needed, and keep the fire small.
Camping enthusiasts have options in Surry County, some with advanced amenities and some as basic as a designated place to pitch a tent. Learn more about camping options at this link. Or leave the wood gathering, fire building and extinguishing to someone else, as these wineries along the Surry County Wine Trail have cozy fire pits with mountain views.
KEEP WILDLIFE WILD — From black bears and wild horses to salamanders and birds, all wildlife should be treated with respect in the natural areas you are visiting.
If you want to get up close to animals, there's no need to endanger yourself or wildlife. Surry County has several destinations where domestic animals are friendly and welcoming. At Carolina Heritage Vineyards, a resident flock of chickens roams the property searching for bugs. Calves, pigs and goats are eager to meet visitors at The Farm in Dobson. Saddle up a horse at Bregman's Trail Riding for an afternoon of observing nature on horseback via the trails at Pilot Mountain State Park.
BE CONSIDERATE OF OTHERS & SHARE THE OUTDOORS — People have a range of skill levels and different ideas about how to enjoy the outdoors. Respect others so that NC's natural spaces will be welcoming and relaxing for all. With 100 miles of canoeing and kayaking waters, 500 miles of road-cycling routes, 36 miles of stocked trout waters, and numerous trails and greenways crisscrossing small towns and forests, Surry County has plenty of places to spread out and pursue your passion.
Check out our interactive outdoors map.