Dobson
Elkin
Mayberry
Mount Airy
Pilot Mountain
Outdoors
Museums
Music
Enjoy Holiday Light Displays In and Around Mayberry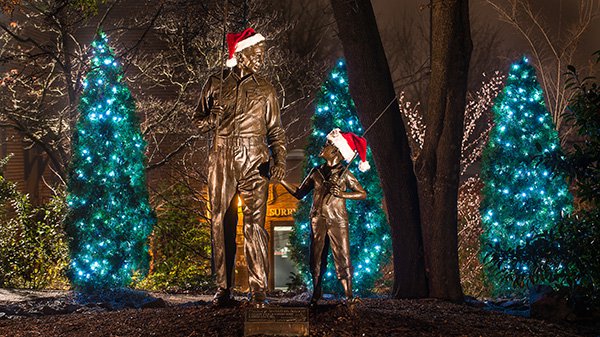 Start a new holiday tradition this Christmas season by loading up the car and visiting Andy Griffith's hometown of Mount Airy. You'll get a chance to see a different side of Mayberry, one that's all aglow with holiday lights.
Below are several holiday light displays in the area with a description of what can be seen at each one and how far it is from the Mount Airy Visitors Center on Main Street in Mount Airy.
Christmas at The Farm – The Farm in Dobson is known for its agritourism offerings in the spring, summer and fall. Christmas at The Farm extends the fun into the holiday season. Magical hayrides take passengers through the property to see large displays of lights. A maze of Christmas lights is also available for walking through. Other activities include visits with Santa, an ornament-making station and a mailbox for letters to the North Pole. The Farm's regular attractions will also be available, including barrel train rides, bounce houses and jump pillows, a playground, and farm animals. Tickets are $15 and must be purchased online in advance. Hours are 5:30-10 p.m. To purchase tickets and see a full list of open days, click here. (Located 25 minutes from the Mount Airy Visitors Center)
A Mayberry Christmas – The local American Legion post transforms Veterans Park (691 W. Lebanon Street, Mount Airy) into a holiday walking trail of lights. Churches, businesses and organizations will have their own holiday scenes for people to see. Admission to the park is free but donations are accepted. (Located about 1.5 miles from Mount Airy Visitors Center)
Brady Country Christmas – Near Pilot Mountain in the Pinnacle community, Ricky and Nancy Brady have put up Christmas lights and decorations since 1989 at 1776 Bradley Road, Pinnacle. They have more than 500,000 lights covering about 30 acres of land. The display includes two homes and a log cabin. It is open to the public to walk or drive through daily. The cabin will be open for touring on Fridays and Saturdays from 6-9 p.m. It has 40 Christmas trees with numerous scenes and tributes to famous NC natives, such as Andy Griffith and Richard Petty. (Located about 20 minutes from the Mount Airy Visitors Center)
Cypress Trails Holiday Light Show – Starting on Thanksgiving, enjoy this five-acre property adorned for Christmas (7157 Interstate Way, Elkin). Walk through twinkling trails; take amazing photos in a giant ornament; and enjoy a bonfire, hot chocolate, beer and wine. There will be surprises on certain nights, including appearances by Santa and his elves. Open Thursday-Sunday through Dec. 30, and daily the week before Christmas. Hours most nights are 5:30-8:30 p.m.; hours extend to 9:30 p.m. Dec. 14-16 and Dec. 21-24. Tickets available online or at the gate. Click here for more details and to purchase tickets. (Located 30 minutes from the Mount Airy Visitors Center)
The Christmas Family Lights – Down in the big city of Winston-Salem, folks come from near and far to see the Christmas Family Lights at 3420 Shiloh Church Road, Winston-Salem, 27105. This is a computer-animated light show featuring 240 channels of computer animation using Light-O-Rama. It also features 45,000 lights. The center point of the display is a 24-foot-tall, 24,000-light mega tree, which uses 128 channels of animation. Other displays include RGB LED North Poles, leaping arches, snowflakes, Santa and all nine reindeer, and more. Be sure to tune to 89.7 FM while watching the lights. The lights are on nightly, 5:15-11 p.m., through early January. (Located about 40 minutes from the Mount Airy Visitors Center)
Tatum Family Christmas Lights – Across the state line in Virginia, the Tatum Family Christmas Lights are a synchronized display at 3930 Ayers Orchard Road in Stuart, Virginia. The lights are synched to an FM transmitter to allow visitors to stop and listen to the music while watching the lights. Tune your radio to 101.3 FM. Open Sunday through Thursday from 6-11 p.m., and Fridays and Saturdays, 6 p.m. to midnight. Open until Jan. 1. (Located about 40 minutes from the Mount Airy Visitors Center)
High Country Lights – Just across the Virginia border in Galax, the High Country Lights provide a holiday spectacular at Felts Park (601 S. Main Street, Galax, VA). It's an animated display where 200,000 lights are choreographed to Christmas music. Tune the radio to 95.9 FM and relax in the comfort of your vehicle or hike around the walking trail and listen to the music. The show operates nightly from Thanksgiving through New Year's Day; Sunday-Thursday, 6-10 p.m. and Friday-Saturday, 6-11 p.m. Admission is free. For information visit www.highcountrylights.com. (Located about 40 minutes from the Mount Airy Visitors Center)
Mayberry Motor Inn – This beloved locally owned motel puts you in the Christmas spirit. The wreaths, garland, red bows and string lights fit the retro feel of the property. Located less than 10 minutes from downtown Mount Airy (and the visitors center), the inn is a great place to stay for easy access to shopping and dining along Main Street.
Lights on Beasley – This drive-by Christmas display has grown over the years to consume the two-acre property at 3406 Beasley School Road in Sandy Ridge. Hop in the car and enjoy thousands of lights and hundreds of decorations. From over-size Christmas bulbs adorning the trees to Frosty, Rudolph, Santa, the Grinch and other notable seasonable personalities, the entire yard is covered in colorful characters. The display started in the early 2000s with homemade wooden cutouts of Santa, a snowman, a reindeer and an angel — but it sure didn't stop there. Expect the lights to be on nightly until 11 p.m., Dec. 1-Jan. 6. (About 50 minutes east of the Mount Airy Visitors Center)
DeHart Park Festival of Lights – In nearby Stuart Virginia, DeHart Park lights up for the holidays with a drive-through display. The festival of lights features displays created and sponsored by local businesses, community groups and families. Area bands, churches, and youth teams and clubs provide live music nightly. The display runs Dec. 15-23; Sunday-Thursday, 6-8 p.m., Friday-Saturday, 6-9 p.m. Cost is $10 per vehicle. (Located about 40 minutes from the Mount Airy Visitors Center)
Plenty of cozy lodging options are available in Mount Airy and Surry County, from award-winning hotels and bed-and-breakfast inns to rental cabins and vacation homes. To see all the lodging options available, click here.