Dobson
Herrera Vineyards Opens in the Heart of the Yadkin Valley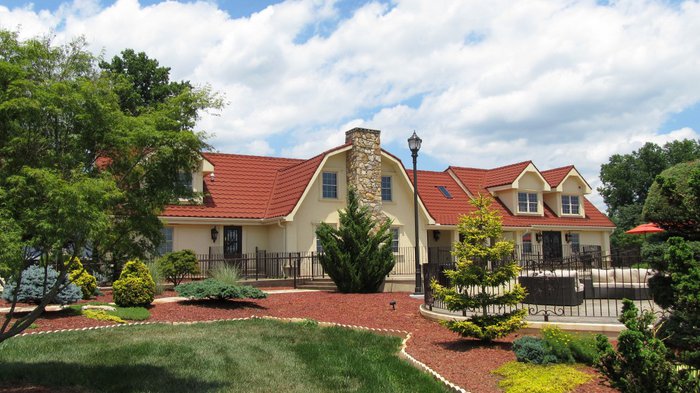 Herrera Vineyards opened May 28 amidst rolling hills just a mile outside the town of Dobson. The Herrera family went to great lengths to ensure the winery would be a destination worthy of its location in the heart of the Yadkin Valley wine region.
Sisters Monica Herrera-Rangel and Carolina Herrera-Ochoa purchased the 54-acre former Black Wolf Vineyards in 2010. A year later, Herrera Vineyards began selling wines from grapes grown at family-owned vineyards in southern Surry County.
Even though Herrera's wines came to market in 2011, the plan all along was to take time to properly renovate and upgrade the Black Wolf facilities. A lot of effort also went into the vineyards and landscaping, including a waterfall and two 75-foot wide terraces.
The result is a striking tasting room/restaurant with a Southwestern villa exterior and a warm, inviting interior combining rich wood textures with hand-made iron fixtures and accents.
"We were a little nervous at opening because when you work on something for four years, you've got to impress," said assistant manager Manny Perez. "However, it has been very well received. It's such a beautiful setting. As soon as you drive up, you get the feeling of being transported someplace very nice."
The main building houses a tasting room in one wing, a gift shop and overflow tasting room in the other wing, and a 22-seat restaurant in between. Additional dining for up to 24 is available on the main terrace.
The tasting room and restaurant overlook the vineyards, with the winery and a guest cabin located on a lower portion of the property.
Herrera Vineyards offers a dozen wines crafted by winemaker Kevin Childers, a graduate of the enology and viticulture program at Surry Community College. Of the wines, eight are red and four are white. According to Perez, five are dry wines, five are semi-sweet and two are sweet. Three of the most popular wines are the Dry Riesling, Solera and Tannat.
"Our grape varietals are different from what consumers are used to. We have Malbec and Tannat, which are red varietals often found in South America," Perez says. "We don't have some of the traditional wines people are familiar with, which I think is a good thing. It allows us to offer something unique. It's a draw."
Herrera's Dry Riesling was named the best overall white wine at the 2014 North Carolina State Fair Wine Competition, while the Rosé and sweeter Riesling earned silver medals in their categories.
Operating hours for visitors are 11 a.m. to 3 p.m. Tuesday through Thursday, and 11 a.m. to 10 p.m. Fridays and Saturdays. Sunday hours are noon to 5 p.m. Lunch is available Tuesday to Sunday and dinner is available Friday and Saturday nights. The winery is closed Mondays.
"From where we are located, you can hit 20-25 different wineries in about a half-hour drive," says Perez. "We couldn't ask for a much better position. Being so central to the whole Yadkin Valley is a big plus."