Kids
Mount Airy
Outdoors
Outdoor Adventure Awaits Along Mount Airy's 6-Mile Greenway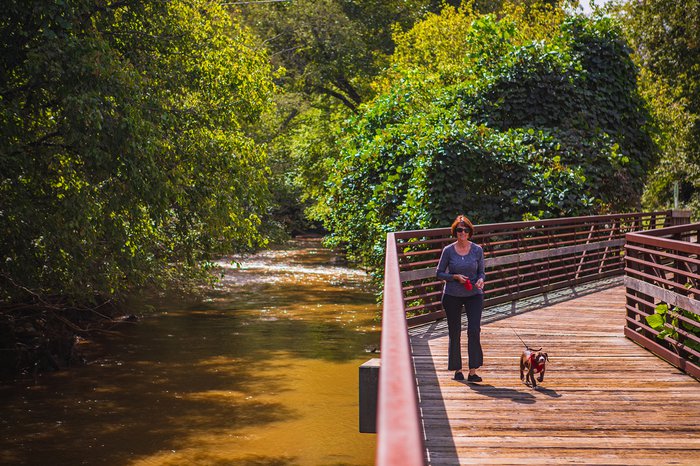 Mount Airy's Granite City Greenway, which began as two separate trails systems, ties together some of the Yadkin Valley town's most impressive natural resources and outdoor amenities.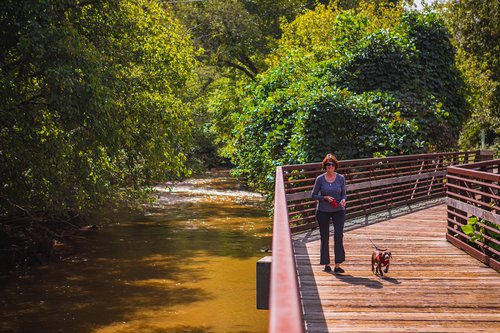 Following along the Ararat River and Lovills Creek, the greenway — measuring 6.6 miles one way and 13.2 miles roundtrip — forms a horseshoe around Mount Airy's southern border. The 10-foot-wide paved route encourages walking, running, cycling and more.
"I was on the greenway recently riding my bike, and I saw walkers, joggers, other cyclists, people walking dogs, mothers with strollers, even someone on roller blades," says Darren Lewis, Mount Airy parks and recreation director. "Every alternative form of transportation was out there."
The current greenway was born in 2016 when the Emily B. Taylor Greenway on the west side of Mount Airy and the Ararat River Greenway on the east side were united via a connector on the southern end. The new route became the Granite City Greenway, paying tribute to Mount Airy's Granite City nickname for having the world's largest open-face granite quarry.
Trailheads with parking lots are located at Riverside Park and Veterans Memorial Park. At Riverside Park on the trail's eastern end, amenities include soccer fields, a basketball court, a pickleball court, a skate park, picnic shelters and restrooms. Veterans Park contains a large open area where events such as car shows, fiddlers conventions and fairs take place throughout the year. Meanwhile, Tharrington Park lies along the greenway with three soccer fields and a baseball field.
The Ararat River and Lovills Creek not only provide peaceful scenery for walkers, joggers and cyclists, but also offer trout fishing, paddling and swimming. Designated as delayed harvest trout waters, the river and creek are stocked by U.S. Fish & Wildlife Service.
"I'm not a fisherman myself, but they say the Ararat River section offers some of the best trout fishing water in our region of North Carolina," Lewis says.
The slow-moving waters provide a gentle paddling experience for kayaking, canoeing, tubing or stand-up paddle boarding. Locals and visitors alike delight in multiple swimming holes for cool dips during the summer.
The greenway transitions seamlessly from urban settings to natural woodlands and open fields. Stop by Chase & Charli for a burger on the patio by the Ararat River. Or sip a craft beer at Whistling Duck Alehouse.
Multiple benches, picnic tables and hammocks throughout the greenway route encourage taking a break to enjoy a meal, read a book or simply soak in the surroundings. The trail's smooth surface and width make it ADA accessible.
"For a small town like ours, it's unique to have a greenway with this many things available along the way," Lewis says. "Outside of Pilot Mountain State Park, the greenway is by far the most utilized outdoor resource in our community."
For a Granite City Greenway map, click here
To learn more about outdoor recreation opportunities throughout Surry County, click here