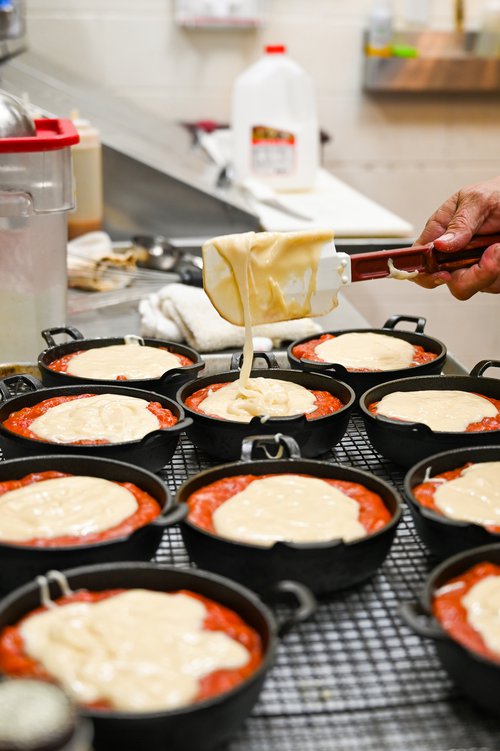 The Harvest Grill dining experience at Shelton Vineyards in Dobson now includes the region's signature dessert. This month, Harvest Grill becomes the sixth stop along the Surry Sonker Trail.
Sonker is a local heritage food passed down through generations. Similar to a pie or cobbler, it comes about by blending fruit and unshaped dough sweetened with sugar, molasses and an occasional secret ingredient.
Travis Dale, the new general manager for Shelton Vineyards, brings with him a culinary background. When he heard about this North Carolina food trail, he jumped at the chance to get involved.
"Surry County has this regional delicacy, and we want to be a part of that tradition and do something special with it," Dale says. "To have great local food is really important."
Small cast-iron skillets are used to make individual sonkers at Harvest Grill. After baking, the crust is topped with fresh fruit and a touch of whipped cream. Strawberry rhubarb is the initial menu option, and the fruit will rotate seasonally.
"Whatever is in season is what we'll do," Dale says. "We hope people will want to keep coming back to try the flavors."
Harvest Grill at Shelton Vineyards is a natural addition to the Surry Sonker Trail. Winery founders Charlie and Ed Shelton have deep roots in Surry County and have always seen the winery and local wine industry as a way to give back to the community.
"Food is powerful, and it can really connect people to an area and its culture," says Dale.
In addition to Harvest Grill, the Surry Sonker Trail includes Anchored Bakery and Miss Angel's Heavenly Pies in Mount Airy, Southern On Main and Skull Camp Smokehouse in Elkin, and Rockford General Store in Dobson.
Meanwhile, sonker-inspired tea is available at Yadkin Valley Tea Trade in Pilot Mountain.
To receive the newly updated Surry Sonker Trail brochure map, call 800-948-0949 or click here.
More about the trail is available at www.SonkerTrail.org.