Dobson
Elkin
Festival
Mount Airy
Pilot Mountain
Wine
Seven best NC wedding barns in Yadkin Valley wine country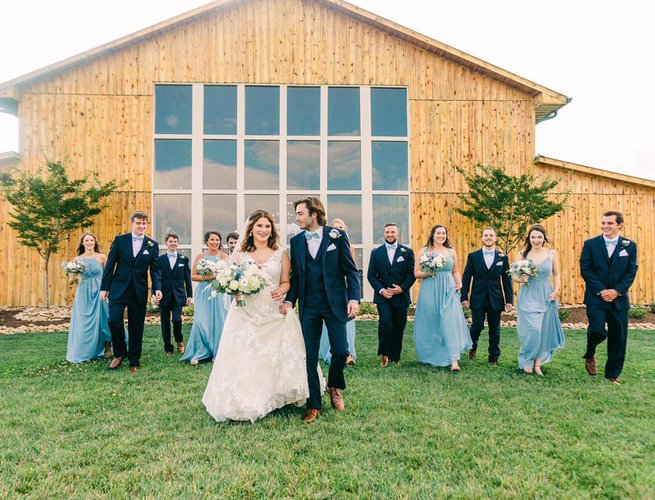 Wedding barns are popular in North Carolina's Yadkin Valley wine country, and seven of the area's best wedding barns are found in Surry County.
Dream weddings come true at these rustic barn venues framed by beautiful mountain views. Brides love the rolling Blue Ridge foothills of the Yadkin Valley, with mountain backdrops that are perfect for wedding ceremonies, photos and receptions.
The Surry County Wine Trail makes this an even better location for destination weddings, as nearby wineries offer a fun diversion for bridal parties and guests.
Several of these top-rated venues were once working barns that have been restored and renovated, adding modern amenities while maintaining an authentic atmosphere. Others were custom built to host events, ensuring extra perks such as suites for the bride and groom, windows for natural light, and overnight lodging.
It's hard to pick a favorite among these top wedding barns as each offers a different experience with its own unique amenities. Here's a breakdown of each venue and what makes it a great wedding destination in North Carolina wine country: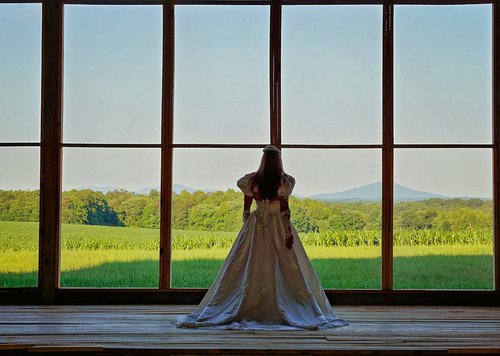 The Barn at Heritage Farm in Dobson showcases mountain views with a wall of windows that brides often use as the ceremony focal point. This custom-built barn, across the road from Shelton Vineyards (NC's largest family-owned estate winery), accommodates 400-plus guests in a climate-controlled space.
Designated bride and groom suites provide space for the bridal party to get ready and relax before the big night. The venue can partner with Shelton Vineyards for rehearsal dinners and wine tastings, as well as lodging (complete with shuttle service) at the Hampton Inn & Suites Shelton Vineyards.
The light wood interior at the Barn at Heritage Farm is rimmed by a second-story balcony, blending rustic charm with an air of elegance. Choose to accent your celebration with a 1956 Ford truck, 1973 International tractor or 1930 Ford roadster, which make great photo ops.
Weddings with a taste of Hollywood are available at the Mitchell River House in Dobson. The house and 400-acre property with a river running through it, were featured in the romantic Nicholas Sparks' movie, "The Longest Ride."
Wedding parties at Mitchell River House get full use of the stately white three-bedroom farmhouse with red roof. The event barn matches the house and has a 16-foot deck overlooking the Mitchell River. The movie crew renovated the barn to appear as Scott Eastwood's house. Now it serves as the perfect venue for many happily-ever-afters.
The Barn at Blueberry Hill, located in the tourist-friendly town of Elkin, offers convenience at every turn, starting with its location not far from Interstate 77. The 1940s dairy barn has been converted from its original use to cater to today's brides. The rustic interior combines vintage furnishings with modern amenities.
Wedding packages at The Barn at Blueberry Hill include two full days on property and a DJ for the rehearsal, ceremony and reception. Brides even have the option to come in on Thursday to begin setting up. And, for a small fee, flowers can be provided by the venue. The climate-controlled barn accommodates up to 200 guests and alleviates any weather-related anxieties. An uncovered patio is available for seating, cocktail hour or dancing.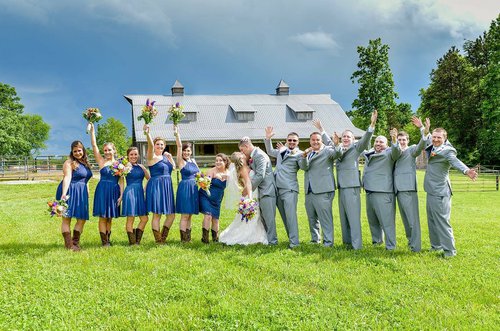 At Absolutely Country Wedding Barn in Pilot Mountain, the fire pit is a favorite place to watch sunsets. The renovated barn accommodates 150 guests, while the covered arena seats even more. The barn's weathered wood, accented with wagon wheels and string lights is the perfect setting and requires very little decorating.
Rolling fields and a view of the iconic knob of Pilot Mountain make Absolutely Country Wedding Barn a beautiful spot for photos, not only on wedding day but also for engagement and bridal shots.
The FarmHouse Siloam in the countryside south of Mount Airy is known for its attention to detail. A planning team comes with the venue and attends to decorations, day-of coordination and unexpected needs. The covered open-air reception pavilion was once a tobacco barn, and its rough wood and rustic accents reflect that history.
A special breakfast package at FarmHouse Siloam includes overnight accommodations on Friday for the bride and bridesmaids in the 1893 farmhouse, as well as a breakfast spread with mimosas on the wedding day.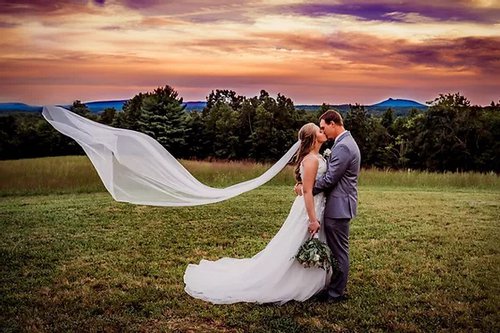 The newly constructed barn at Valley Brook Farm in Mount Airy has a cabin-like feel with clear-stained wood throughout the interior. The climate-controlled space seats up to 150 people with additional overflow options. Located minutes from the Blue Ridge Parkway, the farm has long-range views of Pilot and Sauratown mountains and Hanging Rock.
A fire pit and several lawn games at Valley Brook Farm encourage guests to make the most of the picturesque property. Once a working tobacco farm, the owners now have a vineyard and plans for a future winery. The vineyard also provides a picturesque location for wedding ceremonies. Make plans to tie the knot in the vineyard, with the barn serving as a backup in case of inclement weather.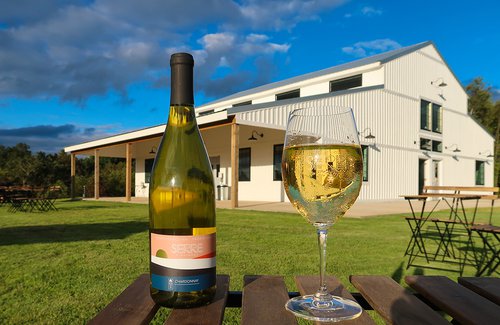 Serre Vineyards opened its barn-style tasting room and venue in a stunning countryside setting outside Mount Airy in fall 2020. The sleek, white structure with black accents blends modern design with Carolina charm. A grass terrace offers stunning sunsets behind the nearby Blue Ridge Mountains.
The climate-controlled wedding space at Serre Vineyards accommodates 200 people. A big selling point for brides is the lofted bridal suite with full-length mirrors, makeup stations, refrigerator, microwave, lounge, rain shower and soaking tub — perfect for a day of pampering with your best girls. An all-inclusive package provides exclusive access to the Serre property and all of its amenities from Friday afternoon till Sunday afternoon. A cottage on property sleeps four overnight guests.
To explore Yadkin Valley/Surry County lodging options and additional activities for bridal parties and guests, click here