Paddling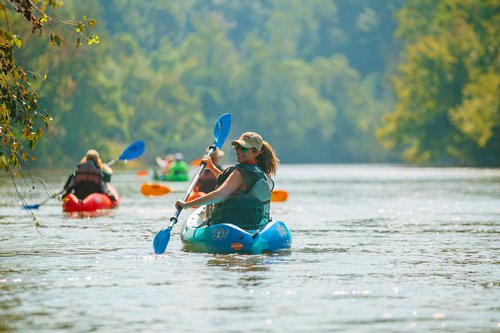 The Blue Ridge foothills of Surry County are rich in kayak and canoe waters.
Here in the heart of North Carolina wine country are four navigable rivers - Yadkin River, Mitchell River, Ararat River and Fisher River - flowing through rolling hills on their way to the Carolina piedmont and eventually the Atlantic Ocean. A fifth waterway in Surry County, Big Elkin Creek, also provides paddling opportunities.
Surry County is proud of these natural resources and has built more developed river access points than any other county in North Carolina. These developed access points, together with undeveloped access points, provide adventure on more than 100 miles of canoe/kayak waters.
Seasoned paddlers are invited to take advantage of our many access points to launch their own vessels, while all river enthusiasts are encouraged to use our local, expert outfitters for kayaking, canoeing and tubing. For a listing of local outfitters, see below.
Surry County Four Rivers Map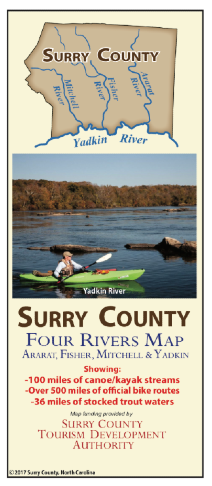 To help paddlers enjoy our streams, Surry County offers a detailed Four Rivers Map that includes: access points, distances between access points, identification of which access points are developed and undeveloped, and areas where portage is required.
To view an interactive version of the Four Rivers Map, click here. To request a free copy via U.S. Mail, click here
Each river in Surry County has its unique characteristics. Here is a quick breakdown of what paddlers can expect with each waterway:
Ararat River
For those in search of a great technical paddle with twists and turns, the Ararat River is a top choice. The river flows south from Patrick County, Va., and into the Surry County town of Mount Airy. There are three developed access points in Mount Airy. Although it starts in an urban environment, the river quick becomes rural and secluded south of Mount Airy and very technical as it flows near Pilot Mountain.
Interestingly, the Ararat River first appeared on a map made by Thomas Jefferson's father, Peter, in 1755.
Fisher River
Headwaters of the Fisher River are in mountainous northwest corner of Surry County near the Blue Ridge Parkway. The upper part of the Fisher, roughly 50% of its route in Surry County, is not considered navigable. This section is home to Surry County's hatchery supported trout waters. Paddling options begin once the river flows underneath I-77 and reaches Fisher River Park in Dobson.
A developed access point at Fisher River Park allows paddlers to enjoy five sections totaling 17.5 miles to the Jenkinstown Road access point. From that point, the river flows into larger Yadkin River and it is about 18 miles to the Shoals Access on the Yadkin.
Mitchell River
The Mitchell River's headwaters are in the far western section of Surry County near Wilkes County line. The first access point is located just below the Mitchell's delayed harvest trout waters. From there, it is 13.7 miles mostly rural, undeveloped miles until it reaches the Yadkin River at the Burch Station access east of Elkin.
The water in the Mitchell River receives some of the highest water quality designations of all rivers in North Carolina.
Yadkin River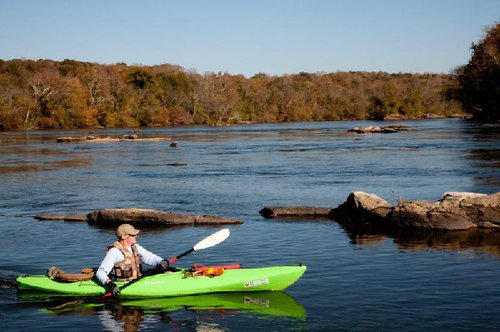 The river that names our valley comprises the southern border of Surry County. The town of Elkin is located on the river as it flows eastward from Wilkes County into Surry. Elkin's location provides easy access to the Yadkin River Trail, an officially designed state blueway trail encompassing nearly 130 miles of the river.
The river itself consists mostly of gently flowing flatwater, with occasional Class I rapids. It's a wide, scenic waterway meandering through mostly farm land. In the Elkin area, there are three are river access points. The first is just west of Elkin in the small community of Ronda. The second is at Crater Park in downtown Elkin and the third is Burch Station, where the Mitchell River flows into the Yadkin.
For those looking for outfitter services, Rocky Forest River Run in Elkin and Hometown River Co. in Jonesville both have full-service operations on the Yadkin RIver.
Rocky Forest River Run offers self-guided paddle trips lasting from 90 minutes to six hours. Hometown River Co. offers two self-guided trips. The Ronda to Crater Park option is approximately seven miles and takes 3.5-4 hours depending on water levels. Roaring River to Crater Park is approximately 11 miles and ranges in time from 4-6 hours.
In the southeastern corner of Surry County, two miles of the Yadkin River flow through Pilot Mountain State Park. That segment is one of the most scenic stretches of the entire river. Birch trees shade the water and sycamores dot the banks. A 15-acre island and a 45-acre island punctuate the river as it moves through the state park, and there are canoe launches and canoe-in camping options in that stretch.
Make plans now to paddle Surry County's wonderful waterways, and don't forget to use the interactive map or request a printed copy of the Yadkin Valley Outdoors Map