Beer
Craft Beer on Tap in Yadkin Valley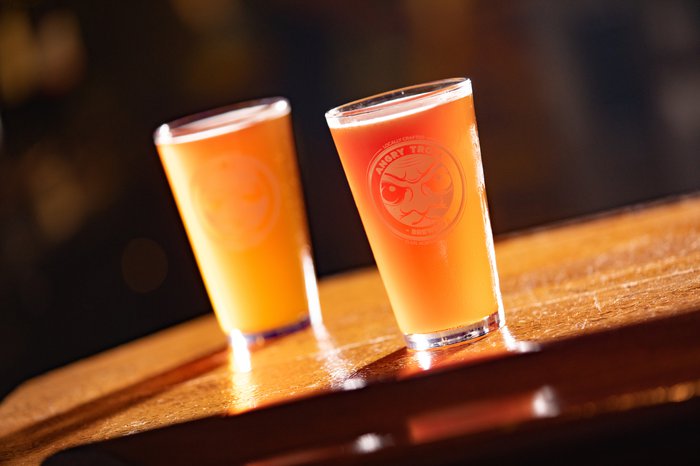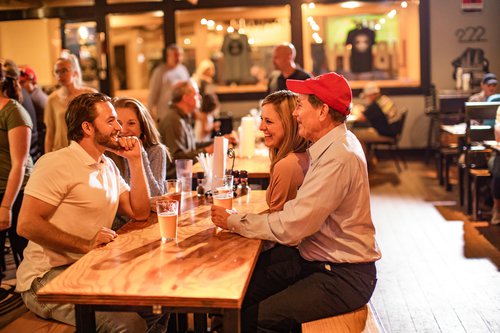 Yes, North Carolina's Yadkin Valley is wine country. However, within the past few years several breweries have bubbled up in the small towns of Surry County. While the styles, tastes and production processes differ between wine and beer, both beverages bring friends together to enjoy a locally crafted product.
Angry Troll Brewing in downtown Elkin honors the history of the town's bridge that once spanned the Yadkin River connecting Elkin to Jonesville. The brewery is located in a lower-level space beside the river. The industrial feel of the former warehouse lends a rustic authenticity to the taproom.
Angry Troll's specialties include a chocolate milk stout and Sir Walter ESB. Upstairs from the taproom, Angry Troll has a full-service pub restaurant with great burgers, pizzas and more, plus live music on occasion.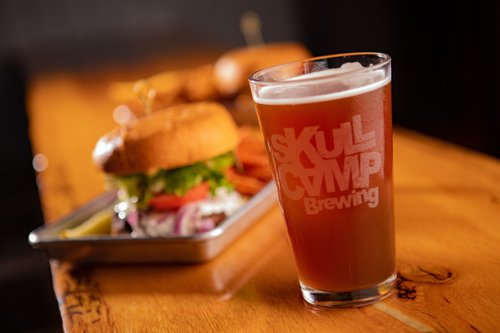 Just up the road in Elkin, Skull Camp Brewery produces an ever-evolving lineup of beers to go along with its smokehouse menu. Since opening, Skull Camp has brewed more than 75 different beers. For the hop-lover, IPAs are plentiful. The stout lineup is also impressive.
Meanwhile, Skull Camp's smokehouse menu includes pulled chicken, pulled pork, baby back ribs, brisket and more. You can even try Surry County's heritage dessert, sonker. Skull Camp is one of the spots on the Surry Sonker Trail.
Back to the beer atmosphere at Skull Camp, folks can either sit by the fireplace when it's chilly, or snag a seat outdoors when the weather's nice.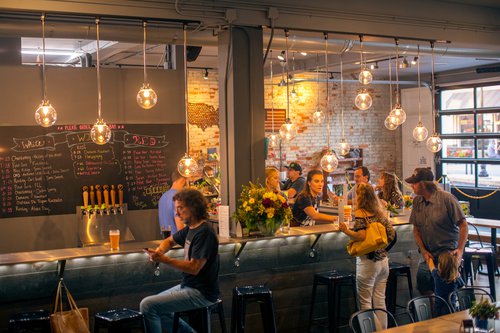 In Mount Airy, Market Street is brewery lane. Thirsty Souls Community Brewing creates a welcoming, friendly environment with a spacious taproom that opens onto the street in warmer months. The brewery gets its name — and several of its beer names, such as Hoppy Souls IPA and R.I.P.A. — from Moody Funeral Service, the building's former tenant.
Small plates, salads, artisan pizzas and a well-curated wine list accommodate customers' varied palates at Thirsty Souls. The pizza has been described as "life-altering." A regular schedule of regional live music adds to the ambience on Market Street, just one block over from Mount Airy's hopping Main Street.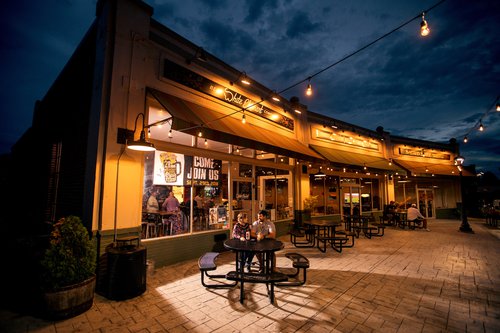 Across the street, White Elephant Beer Company prides itself on beer variety. More adventurous drinkers will enjoy tongue-tingling sours, such as a cranberry-lime gose. The weekly Beer & Banjos old-time jam honors Surry County's rich stringed-instrument tradition. The patio out front is a popular place to sip a pint.
A selection of Skull Camp's beers are available at Round Peak Vineyard in Mount Airy. Ken Gulaian owns both places and started brewing Skull Camp beer at the Mount Airy winery before giving the brewery its own identity and location in nearby Elkin.
Westbend Winery and Brewery provides a countryside experience. Located on 40 rolling acres in Lewisville, the brewery serves sessionable ales and lagers that can be enjoyed in the tasting room or outdoors with a vineyard view.
To learn more about these Yadkin Valley breweries, click here.