Elkin
Outdoors
Trails & Tranquility: Riversong Offers Top-Notch Yadkin Valley Cabins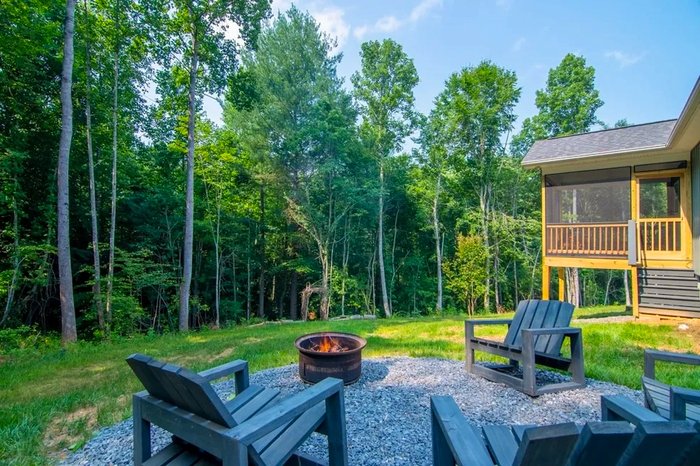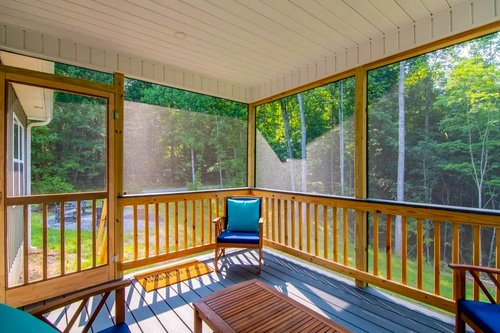 Travelers looking for the best the Yadkin Valley has to offer can find it at Riversong Cabin Rentals near Elkin.
Tucked into 50 wooded acres, these modern-built cabins provide trails, tranquility, trout fishing, a swimming hole and more, all just 10 miles from downtown Elkin. The secluded property lies between the Mitchell River and Snow Creek, which both serve as amenities for guests.
Owners Bruce and Amy Jeffers fell in love with Riversong Lane on first sight and immediately decided to build rental cabins on the property, as well as a house to live in.
The location is also ideal for exploring Yadkin Valley wine country. The cabins are four miles from Carolina Heritage Vineyards, six miles from Christian Paul Vineyards, as well as less than 10 miles from these wineries: Stony Knoll, Haze Gray, Grassy Creek and Slightly Askew.
In fact, many wineries on the Surry County Wine Trail are an easy drive from Riversong.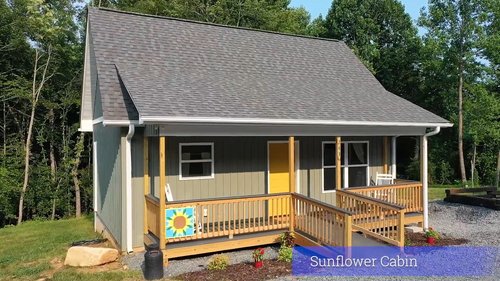 The four well-appointed cabins share a similar floor plan and design. Exteriors feature large front porches with rocking chairs, as well as a screened-in back porches to enjoy the natural setting. The Sunflower Cabin has a ramp to the front door, compliant with accessibility guidelines for most standard wheelchairs, along with an accessible shower.
Interiors have one private queen bedroom, a lofted sleeping area with twin beds, and one bathroom. They are able to sleep up to four people. Each has a fully equipped kitchen, hi-speed WiFi, Roku TV and all linens provided.
The property is a big draw. In addition to fire pit areas, there are four trails on site. Here is a brief overview of each trail: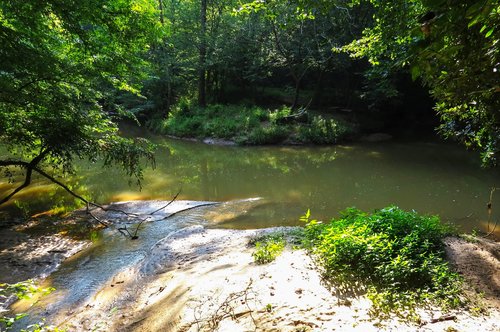 Cabin Trail – The trailhead is behind the Bluebird Cabin. This trail loops around and comes out near the front gate, where the trail continues on Riversong Lane to finish back at the cabins. This loop is about 0.5 miles with a difficulty rating of moderate.
Swimming Hole Trail – The trailhead is located off Riversong Lane, 200 yards from the cabins. The trail is about 0.2 miles (one way) to a swimming area on Snow Creek. Difficulty rate is light to moderate.
Snow Creek Trail – Trailhead for this path is about a half-mile from the cabins. The trail leads to a beach area on Snow Creek with a wooden two-person swing. The trail, rated moderate, continues along the creek for about 0.5 miles and re-emerges onto Riversong Lane.
Mitchell River Trail – The trailhead is located at the bottom end of Riversong Lane, about three-quarters of a mile from the cabins. The path leads to a beach area on the Mitchell River which also has a wooden two-person swing. The trail is about 0.2 miles (one way) to the beach area and is rated light to moderate.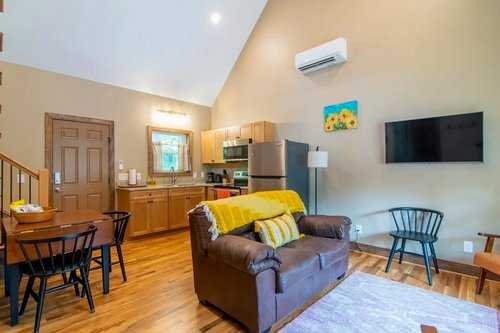 For those seeking a peaceful Yadkin Valley cabin getaway, Riversong Cabin Rentals is a great option and will only get better as a second phase will bring treehouses and a rental lodge to the property in the future.