Dobson
Elkin
Mount Airy
Pilot Mountain
Wine
Celebrate NC Wine Month in Yadkin Valley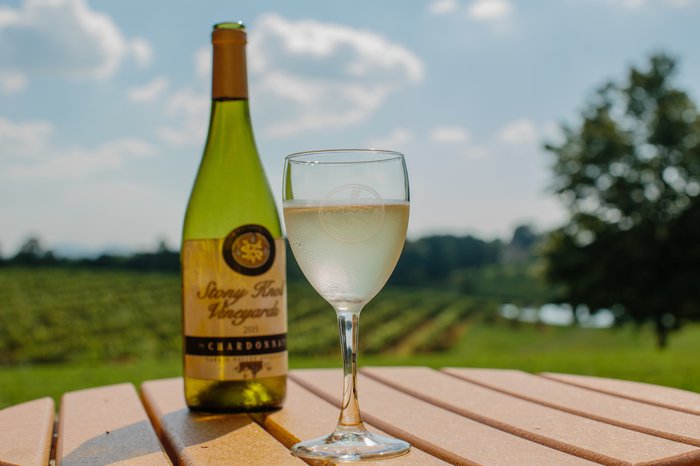 May is Wine Month in North Carolina, and there's no better place to celebrate than in the Yadkin Valley.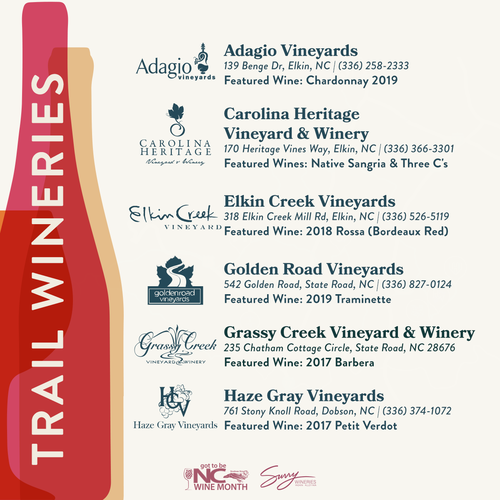 Throughout the month, wineries along the Surry County Wine Trail have decided to shine the spotlight on their best work.
From now through May 31, the following wineries will feature a top wine in their tasting rooms: Adagio Vineyards (2019 Chardonnay), Carolina Heritage (Native Sangria, Three C's), Elkin Creek (2018 Rossa), Golden Road (2019 Traminette), Grassy Creek (2017 Barbera), Haze Gray (2017 Petit Verdot), Hidden Vineyard (2019 Petit Manseng), Roaring River (2018 Chambourcin), Round Peak (Nebbiolo), Serre Vineyards (2018 Meritage), Shelton Vineyards (Yadkin Valley Riesling), Slightly Askew (2019 blend of Pinot Grigio, Sauvignon Blanc & Muscat) and Stony Knoll (Hungarian Oaked Chambourcin).
In addition, many wineries are hosting free drawings to win a prize package from the NC Wine & Grape Council. The package includes a picnic basket with lightweight plates and silverware, wine tumbler, wine opener, tote bag, glasses and a picnic blanket.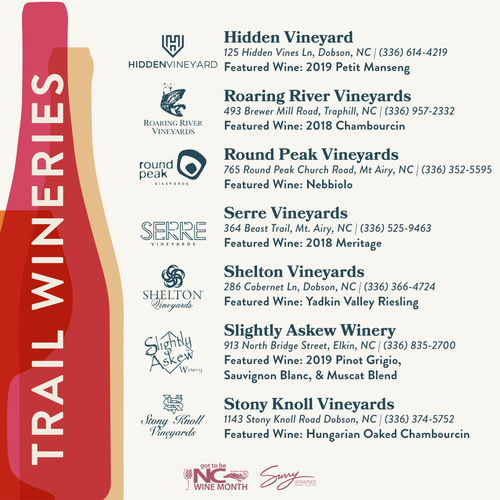 Visitors to the area thoroughly enjoy the vineyards in May. Spring is in the air, grapevines have sprung to life, and temperatures are typically mild and accompanied by a soft breeze from the nearby mountains. Several vineyards have either added or expanded outdoor tasting areas, offering fresh air, scenic views and social distancing.
For an overview of all events taking place in the area in May, and throughout the year, click here.