Dobson
Elkin
Wine
Elkin Vine Line Runs Loops to Popular Yadkin Valley Wineries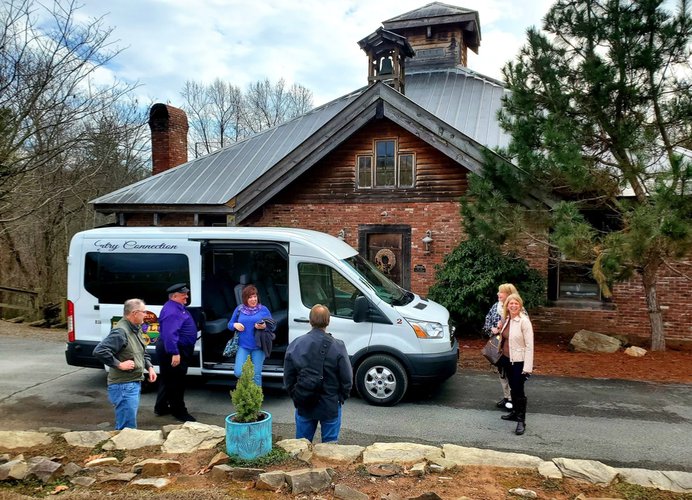 A wine shuttle service in Surry County makes it easier than ever to explore Yadkin Valley wine country. The Elkin Vine Line runs regular loops to local wineries, allowing folks to get on and off at their leisure. The transportation service operates five lines, each connecting to four wineries.
Operating on Fridays, Saturdays and Sundays, the service begins and ends at the Yadkin Valley Heritage & Trails Visitor Center in downtown Elkin.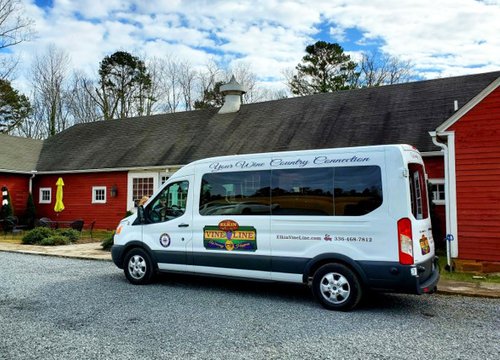 Visitors may hop off at as many or as few wineries on the loop as they choose. The vans arrive at each winery approximately every hour. While at the wineries, visitors can track the Vine Line vans via a mobile phone app.
"We came up with this concept to find a better way to move people around in wine country," says Dennis Lazar, owner of The Elkin Vine Line. "Wine tours cater to large, unified groups, but our sweet spot is groups of two or four people, such as a couple of couples, that we can move around easily."
The Red Line focuses on small boutique-style wineries close to Elkin. Stops include Carolina Heritage, Elkin Creek, Adagio and Slightly Askew.
The Purple Line heads north to wineries near the base of the Blue Ridge. Wineries include Roaring River, Jones von Drehle, Golden Road and Grassy Creek.
The Gold Line ventures east to wineries on the western edge of the Piedmont region. This line includes Sanders Ridge, Haze Gray, Stony Knoll and Hidden Vineyard.
The Green and Blue lines serve wineries in surrounding counties.
"We want to give as much choice and freedom to our riders as possible," Lazar says. "We've had people already to get off and say, 'Wow I didn't know this place existed; I'm going to stay here a little longer.'"
Advance reservations are recommended. Daylong passes are $40 each. Passes are available for purchase at www.ElkinVineLine.com, and trips may be booked as far as 60 days in advance. Each line leaves at a specified time to coordinate with winery hours and avoid crowd conflicts with other groups.
The Elkin Vine Line also accommodates spontaneous trips, so customers wishing to visit wineries without an advance pass may go to the Visitor Center, check if the Vine Line has empty seats and pay on the spot for their trip.
Once riders finish their tasting experiences and return to the Visitor Center, they are encouraged to explore downtown Elkin's shopping, dining and entertainment options. The Elkin Vine Line also offers a hopper that picks up and drops off riders at hotels, RV parks and vacation rentals.
To learn more or book a trip, visit www.ElkinVineLine.com.