Wineries
Surry County is located in the heart of North Carolina's Yadkin Valley wine region and home to some of the most popular wineries in NC wine country. Visitors receive a true "wine country experience" with a variety of scenic vineyards tucked in the rolling countryside of the Blue Ridge foothills. Options range from small, boutique wineries to North Carolina's largest family-owned estate winery.
It was here in Surry County that NC's first federally-designated American Viticultural Area - the Yadkin Valley AVA - was born in 2003. Spearheaded by Charlie and Ed Shelton of Shelton Vineyards, that designation solidified the Yadkin Valley as a bona fide wine region and spurred growth of wineries in the valley.
Surry County Wine Trail
The growth of the Yadkin Valley AVA has certainly been felt in Surry County. The Surry County Wine Trail now features 18 wineries.
Sixteen of those 18 wineries are located in the county: Adagio, Carolina Heritage, Christian Paul, Elkin Creek, Golden Road, Grassy Creek, Haze Gray, Hidden Vineyard, JOLO Vineyards, Old North State, Round Peak, Serre Vineyards, Shelton Vineyards, Slightly Askew, Stony Knoll and Surry Cellars.
Two wineries, Jones von Drehle and McRitchie are located just outside the county and work closely with their counterparts in Surry County.
Together, these 18 vineyards make the Surry County Wine Trail the best wine trail in North Carolina. To receive a free trail guide, click here.
Overviews of each winery are at the bottom of this page.
Winery History
Each of Surry's wineries has an interesting story, from the state's first certified organic winery at Carolina Heritage Vineyards to the officially-designated North Carolina Century Farm at Stony Knoll Vineyards, which has been in the same family since 1896.
Shelton Vineyards, meanwhile, is the state's largest family-owned estate winery. Three wineries - Carolina Heritage, Golden Road and Haze Gray - are official Homegrown by Heroes farms, honoring agricultural businesses owned and operated by military veterans.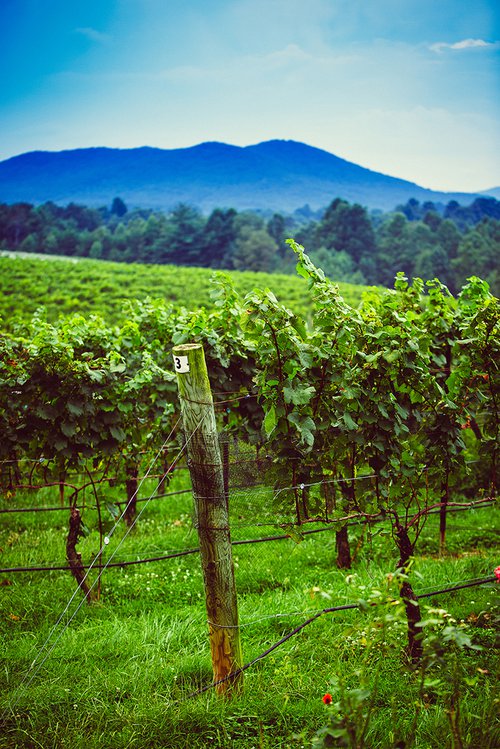 Yadkin Valley Terroir
Another strength of Surry wineries is location. North Carolina's Yadkin Valley features a temperate climate, loamy soil, and latitudes similar to Napa Valley. Elevations range from 800 to 1,600 feet, ideal for growing European vinifera grapes and French-American hybrids. Together these dry wine varietals make up roughly 70 percent of the area's grapes, with muscadines making up much of the remainder. This differentiates the Yadkin Valley from other Southern wine regions, where muscadines are predominant and produce sweeter wines.
Check out this interesting video featuring select vineyards in Surry County:
Wines
Yadkin wines showcase the classic varietals, such as: Chardonnay, Merlot, Cabernet Sauvignon, Syrah, Sauvignon Blanc, Cabernet Franc, Pinot Grigio, Viognier and Riesling. Malbec and Tannat also play an important role in the valley, along with some hybrid grapes, such as Cynthiana, Traminette and Chambourcin.
"The wines get better and better every year as the vines age. Because of that, our wines are winning more awards and we're getting more exposure," says county manager Chris Knopf. "People traveling to a wine destination want to have a lot of options. We have that in Surry County."
Scroll down for individual listings of all Surry County Wine Trail vineyards in the Yadkin Valley or click here to request a free trail guide.